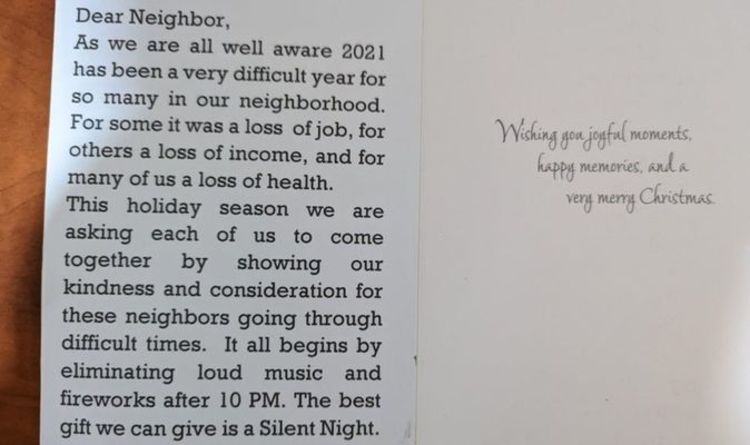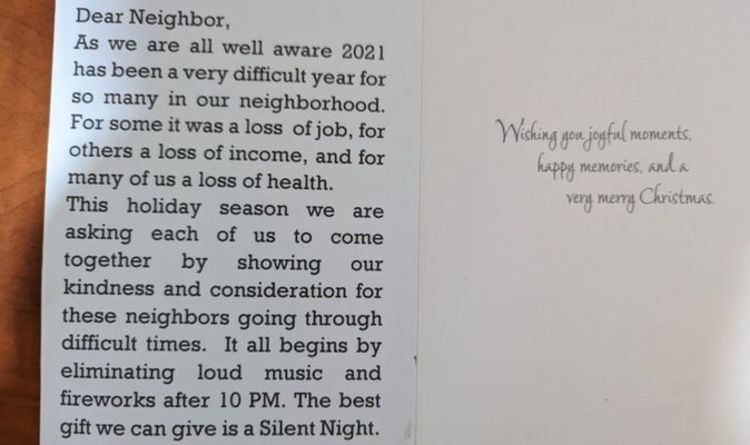 One of the residents who received the anonymous Christmas card that contained a disturbing printed message shared it on Reddit and complained. They said: "Some Karen mailed these out to my whole neighbourhood with no return address.
"I doubt this will be effective."
The greeting card looked very classic on the right page with a message wishing "joyful moments, happy memories, and a very merry Christmas."
However, the left part of the card showed a long message asking for all loud music and fireworks to be cut after 10pm on New Year's Eve.
The message said: "Dear Neighbour."
"As we are all well aware, 2021 has been a very difficult year for so many in our neighbourhood.
"For some, it was a loss of job, for others a loss of income, and for many of us a loss of health.
"This holiday season, we are asking each of us to come together by showing our kindness and consideration for these neighbours going through difficult times.
"It all begins by eliminating loud music and fireworks after 10pm."
READ MORE: Man shot in stomach in pub car park
Earthdogmonster said: "Yeah, it sounds like some rude a*sholes are blasting loud music and launching fireworks after 10pm.
"I guess sending a card is more 'Karen' than calling the cops."
FuriousFerret0 added: "While that's a little out there, I'm not really opposed to the message."