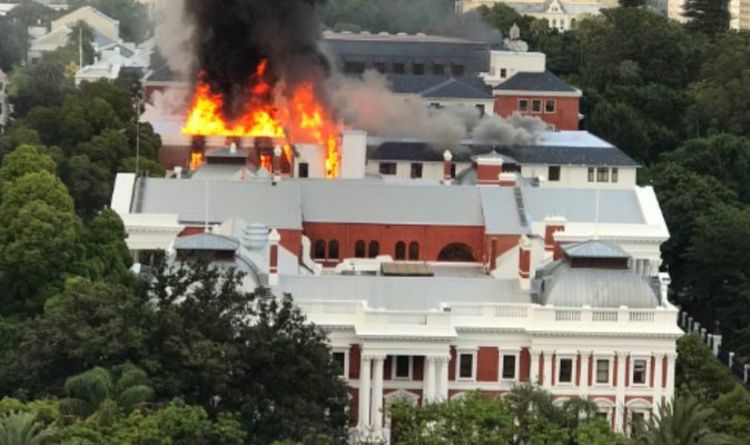 City of Cape Town politician Jean-Pierre Smith, 50, has warned South Africa's Parliament could be damaged significantly following the incident. Mr Smith said: "The City Fire & Rescue Services received the call at 5.03am of a building alight in Parliament Avenue.
"Roeland Street Fire was first on scene and with the assessment of the fire more resources were called.
"We currently have six firefighting appliances and approximately 36 firefighters on scene.
"Roeland Street, Sea Point, Salt River, Brooklyn, Goodwood, Milnerton firefighting crews on scene.
"We have two Fire Safety Officers on scene as well."
Speaking to Newzroom405, he added: "The damage will be significant.
JUST IN: Colorado wildfire: Cadaver dogs to search through 8 inches of snow after 'ferocious' blaze
"The fact they are calling for more resources to assist is not a good sign."
However, he also reiterated that no individuals are reported to have been left injured during the fire.
Images and videos shared on social media appear to show smoke and flames flowing from Parliament in Cape Town.
Local reports indicate Cape Town Fire & Rescue services have confirmed there is a fire at the building.
Firefighters have been deployed and are reportedly at the scene.
READ MORE: World holds breath as China beats US to form terrifying new hypersonic heat-seeker missile
She said on Twitter: "Fire on Parliament's 3rd floor.
"Fire and Rescue's Jermaine Carelse says they got a call at about 5am and they're still battling the blaze.
"He says there are cracks in the walls, an indication of how intense the fire is.
"No deaths or injuries reported yet."
Democratic Alliance MP and Shadow Minister Dianne Kohler Barnard, 66, also updated her social media followers about the fire.
She said: "Fire is currently on the 3rd floor – initial reports indicate it started in the office space and is spreading toward the gymnasium.
"The roof area has caught alight and the National Assembly building is on fire too."
Ms Kohler Barnard added: "The fire has not been contained and reports of cracks in some walls of the building have been confirmed."