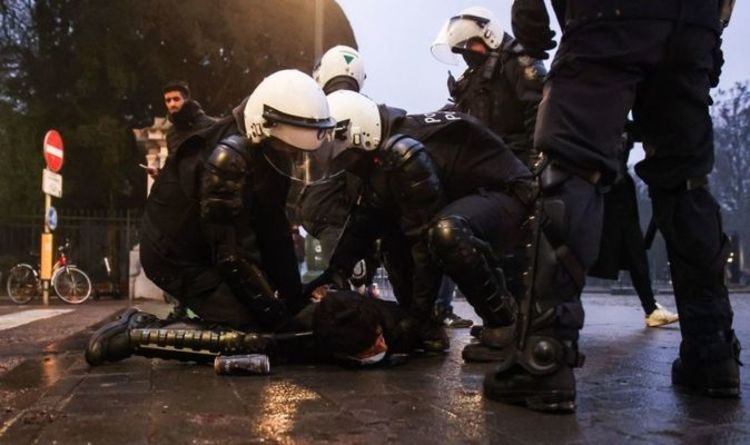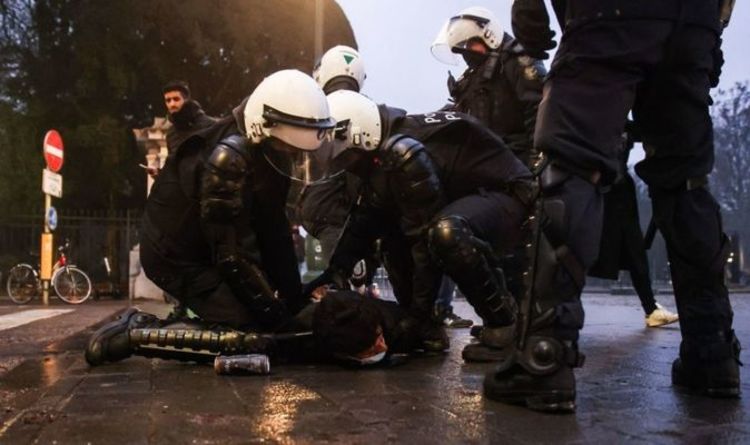 Protesters were seen throwing objects at heavily-clad officers in the EU country's capital. Officers were seen trying to disperse stone-throwing youths after the anti-lockdown protest turned violent.
During the day, around 3,500 protesters marched from the Gare du Nord railway to a park in the city's European quarter.
It later turned violent when a small group of hooded protesters clashed with riot officers protecting the route to EU headquarters, where officials were meeting African leaders.
It comes as Belgium recorded around 10,000 new Covid cases per day as the Omicron variant spreads in Europe.
The protests came as Prime Minister Alexander De Croo's Government prepares to meet on Wednesday to decide on any new measures to try and combat the spread of Omicron.
READ MORE: Michael Schumacher health update: Where is Michael Schumacher now?
Ahead of Wednesday's meeting, the Belgium Government has strongly advised all residents to get vaccinated.
It has given health care workers a three-month window to get vaccinated against the virus from January 1 or risk losing their jobs.
At a protest in Brussels earlier this month, police used water cannon and teargas to disperse protesters who were opposed to compulsory health measures against the coronavirus pandemic.
About 8,000 people marched through Brussels towards the headquarters of the EU, chanting "freedom" and letting off fireworks.
The crowd was smaller than the 35,000 vaccine and lockdown sceptics who marched last month, and police were better prepared.
The march began peacefully but descended into violence as several hundred people started pelting officers, smashing cars and setting rubbish bins on fire.
Police responded with teargas and water cannon.