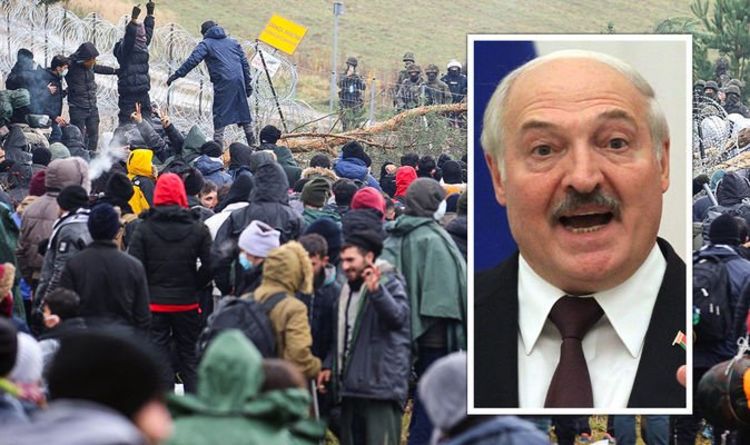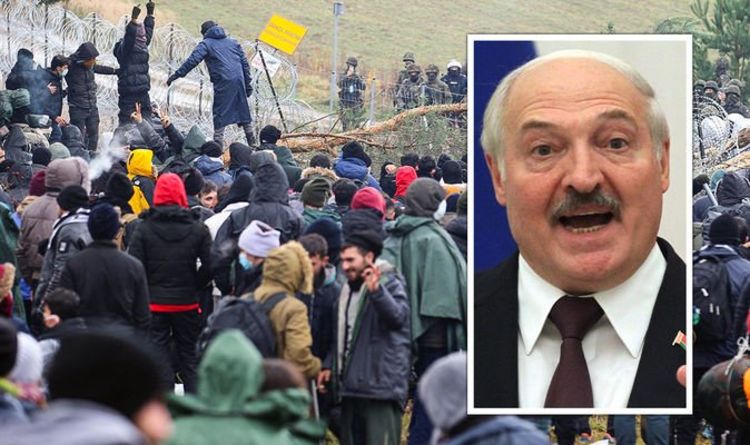 The North Atlantic Treaty Organisation accused Belarus of trying to use illegal immigration as a tool to destabilise the European Union, the Telegraph reports. The broadsheet adds NATO has suggested Belarus is attempting to undermine the continental bloc after Brussels imposed sanctions on Minsk.

An official from inside NATO said: "NATO stands ready to further assist our allies, and maintain safety and security in the region."
The Telegraph reports the source went on to claim: "We call on Belarus to abide by international law.
"We have seen a surge of migrants trying to enter Allied territory via Belarus.
"NATO continues to closely monitor the situation, which is putting pressure on our Allies Lithuania, Latvia and Poland."
"The Lukashenko regime's use of migrants as a hybrid tactic is unacceptable," they added.
The news comes after the Polish Border Guard claimed migrants had yet again attempted to cross the Belarusian border yesterday.
JUST IN: Rock and a hard place! Gibraltar's shelves so bare Britons heading to Spain for food
Belarus' dictator Alexander Lukashenko, 67, previously threatened to open borders for drugs and migrants earlier this year.
Speaking in July, the eastern European President said: "We will not hold anyone back.
"We are not their final destination after all.
"They are headed to enlightened, warm, cozy, Europe."
Authorities in Warsaw warn there have been 28,500 attempted border crossings since August amid concerns the European Union's external frontier is now under an "organised attack".
Poland has responded by sending 12,000 troops to the border.
READ MORE: 'Historic low' Biden suffers huge setback as Harris most unpopular VP in at least 50 years
Reports suggest Polish Defence Minister Mariusz Blaszczak, 52, is preparing to deploy even more troops.
According to the Telegraph, the Polish-born ex-President of the EU Council Donald Tusk, 64, has encouraged Warsaw to "consider whether we should trigger NATO Article 4".
Invoking the alliance's mechanism is said to be designed to protect "the territorial integrity, political independence or security of any of the Parties is threatened".
Despite this, the Kremlin has opted to voice support for Belarus for the first time.
A Moscow spokesman told reporters: "We have no doubt here that the Belarusian migration services are taking all necessary measures to keep the situation in the legal field."
The move from Belarus could however lead to yet more sanctions from the European Union.
DON'T MISS:
This is why UK doesn't trust EU' Fury as Germany funds China warships [MUST SEE]
Poland and Belarus tensions boil over: Migrants escorted to border [REVEALED]
Loyal dog refuses to leave owner's grave in heartbreaking pictures [INSIGHT]
The bloc's lead spokesman on external affairs, Peter Stano, said: "We are facing a hybrid threat and we will not stand without any action."
The United Kingdom, which has been a member of NATO since its creation in 1949, has already introduced a "significant new package of sanctions on Belarus" back in August.
According to the UK Government website, the then Foreign Secretary Dominic Raab, 47, said: "The Lukashenko regime continues to crush democracy and violate human rights in Belarus.
"These sanctions demonstrate that the UK will not accept Lukashenko's actions since the fraudulent election.
"The products of Lukashenko's state-owned industries will not be sold in the UK, and our aerospace companies will not touch his fleet of luxury aircraft."
UK measures included preventing Belarusian air carriers from "overflying or landing" in the UK and even imposing "trade measures" on goods to limit the revenue flowing to the Lukashenko regime.