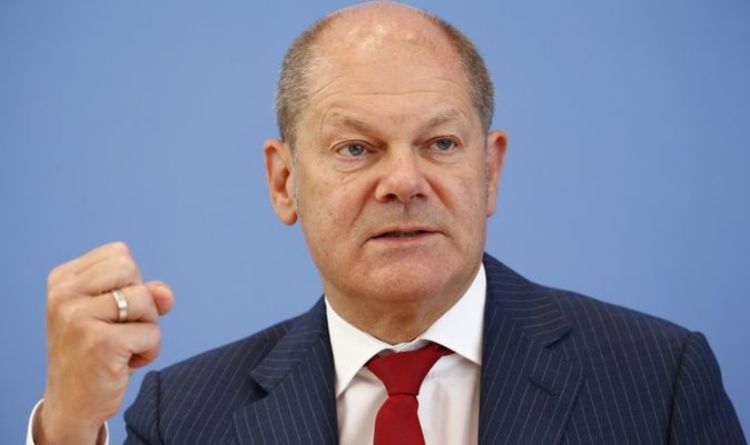 Olaf Scholz, 63, only succeeded Angela Merkel, 67, as Chancellor last week after Germany spent 16-years being governed by the nation's first-ever female leader. Mr Scholz ensured the left-leaning Social Democratic Party returned to the forefront of German politics by defeating Ms Merkel's replacement as leader of the centre-right coalition between the Christian Democratic Union and Christian Social Union, Armin Laschet, 60, in September.
He will now govern Germany under a traffic light coalition, calling on the support of the nation's Green Party and the liberal Free Democratic Party.
The Chancellor, who spent a period deputising for Ms Merkel during her fourth government, will go up for re-election yet again in the autumn of 2025.
However, the ex-general secretary of the SDP has already left his mark on the top German job after deploying some characteristically vague and formulaic responses to journalists during a press conference with Polish Prime Minister Mateusz Morawiecki, 53.
During his joint appearance with Mr Morawiecki on Sunday, Mr Scholz was unable to clarify Berlin's position on the controversial pipeline between Russia and Germany, known as Nord Stream 2.
Instead Mr Scholz is reported to have claimed Germany will no longer be using gas as an energy resource in 25-years time.
JUST IN: 'Want to decide when you're infected?' Man arrested over plot to sell Covid infection kits
However, Warsaw has come out in opposition to the move and called on its partner in the European Union to stifle the pipeline plan.
But this wasn't Mr Scholz's first official visit as Chancellor.
He had already made the trip to the EU's main capital Brussels and to nearby Paris.
The 63-year-old was greeted in Paris by French President Emmanuel Macron, 43, on Saturday with a fist bump.
During his meeting with Mr Macron, who is himself up for re-election next year, the pair were asked about reports Russia could invade Ukraine and whether they would be ready to review Maastricht's criteria on inflation.
READ MORE: Russia nuclear war warning: Putin threatens to unleash hellfire
But while the French President spent three minutes answering the questions, Mr Scholz said: "One thing is very clear right now: we have to cooperate, we have to act, and put effort into this in Europe.
"But that requires that our borders hold firm, and we are working to de-escalate conflict.
"And we want to make sure that the future is open to everyone."
Similarly, the German Chancellor proved problematic for reporters when facing questions after presenting his government's coalition treaty earlier this month.
When asked by a reporter from Dutch newspaper De Telegraaf about his role in Hamburg's riots of 2017, a city Mr Scholz was then mayor of, the enigmatic German Chancellor replied: "We agreed during coalition talks to do everything to ensure that domestic security is guaranteed.
DON'T MISS:
The 6 EU countries at risk from Russian invasion as Putin takes aim [REVEALED]
Russia threatens to nuke Europe as tensions escalate dramatically [SPOTLIGHT]
Klitschko asks Germany for help to fight off Putin's invasion [REVEALED]
"Police will receive all the support it needs to make sure crime won't have a chance in Germany."
After reviewing footage of Mr Scholz's first press conference on German TV networks on Sunday, Dagmar Rosenfeld from the Welt am Sonntag said: "The Scholzomat is back."
Mr Scholz's nickname, a far cry from Ms Merkel's affectionate 'mutti' title, was first used when the Chancellor was SDP general secretary in 2003.
However, while German journalists concede Mr Scholz's robotic ways may have aided his career progression, some remain critical of the Chancellor's conduct.
Der Spiegel's Markus Feldenkirchen said: "It does lay bare a strange understanding of journalism."
He added: "And especially a Chancellor should aim higher."