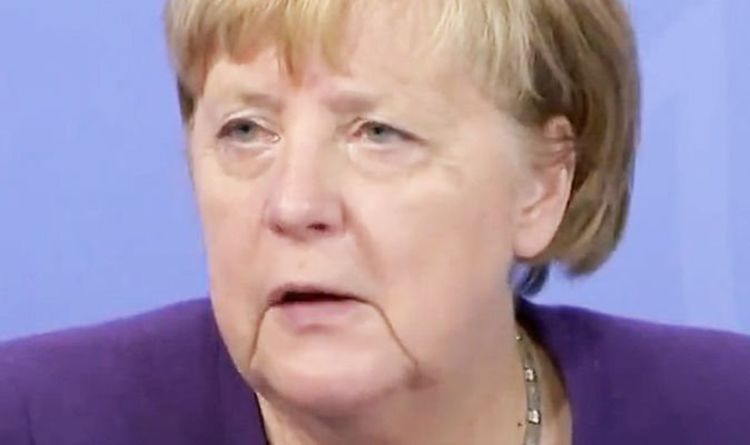 Angela Merkel called on all German citizens to get vaccinated as she suggested making the vaccine mandatory for all could be the way to avoid further resurgences of the virus. The outgoing Chancellor on Thursday imposed tougher restrictions for people who are unvaccinated against COVID-19. People who have not had their jabs will not be able to access non-essential shops, supermarkets and restaurants even museums or gyms.
A draft law for the mandatory vaccines has been submitted to the German parliament, set to kick in next year in February or March.
Angela Merkel has expressed upset over the lack of vaccine uptake from Germans, saying: "To be honest, the fact that we are now in the middle of such a strong fourth wave does not make me happy.
"It depresses me when I look at certain regions, mandatory vaccinations will be discussed and voted on in the German Parliament.
"And the states will ask the ethics council to work out recommendation, by years end."
Just In: 'Makes me sick!' BBC Question Time audience slams Tory MP over Number 10 Christmas party
Ms Merkel added: "Mandatory vaccinations could then, if approved in Parliament, become effective around February 2022.
"The 2G rules [vaccinated or recovered] will be extended across the board to retail.
"In addition, access to facilities and events for cultural and leisure activities (including cinemas, theatres, restaurants) will only be possible for vaccinated and recovered people (2G), regardless of the incidence rate.
"A negative test can additionally be requested."
Read More: 'Don't be shy' Angela Rayner in furious response to Tory MP – 'Were you calling me thick?'
Many European countries have imposed tighter restrictions following the latest surge of the new variant Omicron, some of those countries include Austria, Spain, France, Denmark, and the UK.
Ms Merkels predicted successor, Germany's current Finance Minister Olaf Scholz, also commented on the recent new restrictions.
Mr Scholz said: "You can't callously watch the situation as it is right now, If we had a higher vaccination rate, we wouldn't be discussing this now."
European Commission President Ursula Von der Leyen also hinted at the potential introduction of mandatory Covid vaccines to minimise the threat Covid poses.
Don't Miss:
Ms Von der Leyen said: "If you look at the numbers, we have now 77 percent of the adults in the European Union vaccinated, or if you take the whole population, it's 66 percent.
"And this means one-third of the European population is not vaccinated. These are 150 million people,"
She added: "This is a lot, and not each and everyone can be vaccinated — children, for example, or people with special medical conditions.
"But the vast majority could and therefore, I think it is understandable and appropriate to lead this discussion now."