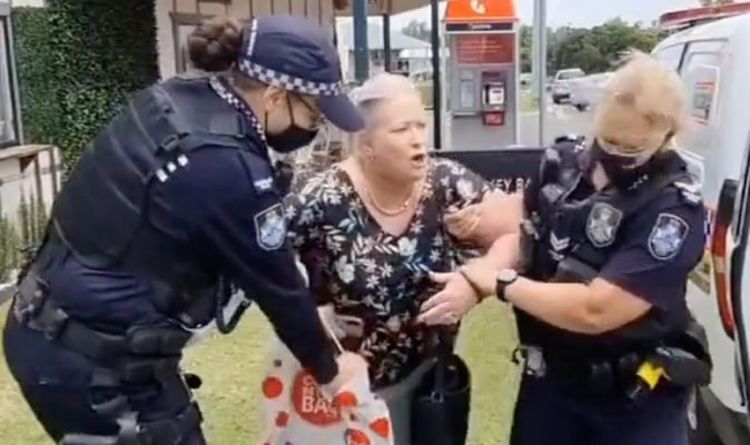 Rebecca Taylor, 46, was visiting a coffee shop in Hervey Bay, Queensland when ordered to prove her vaccine status after members of the public reportedly tipped the police off about her. But after turning down the request, police took brutal force as they arrested her, threw her into a waiting police van and charged $1,300AUD (£686).
In chilling footage, Ms Taylor appears to be grabbed by two officers and restrained.
She can be heard pleading with the five officers at the scene that she is "happy to show you my information" as she begs for leniency.
But the cops appear uninterested as they drag her to their van.
She can be heard screaming "this is ridiculous" before being bundled inside with the door slammed behind her.
JUST IN Macron's war on parents backfires as French police violently tear-gas young students
Mr Straight told Daily Mail Australia that his cafe had previously posted a video "saying we welcome all of the community" but astonishingly, a few days later, on Christmas Eve, he claimed, "three police arrived in their paddy wagon saying we were providing false information and that unvaccinated people can't even sit in the garden."
According to Queensland Police, Ms Taylor was arrested after a number of warnings and charged for "contravening a direction and obstructing police" and will face a Magistrates Court in March.
In a statement to Daily Mail Australia, Queensland Police said: "After several warnings, the 46-year-old Toogoom woman was arrested and charged with contravening a direction (fail to state name and address) and obstruct police. "
"The vast majority of the Wide Bay community has been very compliant with public health directions throughout the COVID-19 pandemic and we urge members of the public to continue to work with us in the interests of keeping our community safe."