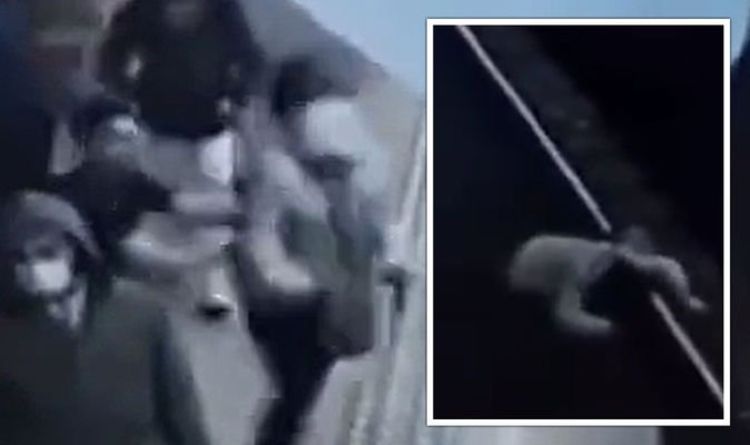 A young man was filmed pushing a woman deliberately onto the tracks in Rogier metro station in Brussels at around 19:45 on Friday evening. CCTV footage shows the train stopping moments before the woman was hurt. She was quickly helped off the tracks by bystanders, according to Brussels public transport company STIB.
Guy Sablon, spokesperson for STIB, told The Brussels Times: "The driver reacted very well but is very much so in shock, as is the victim."
The victim and Metro driver were taken to hospital and returned home after receiving care.
The suspect has been arrested.
Brussels police spokesperson Sarah Durant said: "Thanks to the distribution of the images of the suspect within the police services, he was intercepted a few minutes later while he was in the metro station De Brouckère."
READ MORE: Expert predicts Emmanuel Macron will quit before he loses elections
Meanwhile, three Extinction Rebellion activists have been cleared over a 2019 stunt which saw them cause 77 minutes of disruption to a central London train.
Reverend Sue Parfitt, 79, Father Martin Newell, 54, and former university lecturer Philip Kingston, 85, were unanimously acquitted by a jury at Inner London Crown Court of obstructing the railway following their protest at Shadwell Station on October 17 2019.
Mr Kingston super-glued his hand to a Docklands Light Railway (DLR) train while Rev Parfitt and Father Newell climbed on the roof and said prayers for the planet, shortly before 7am.
The trio said they were strongly motivated by their Christian faith, while Mr Kingston said the futures of his four grandchildren also prompted him to take part in the protest.
The verdict comes after four people were cleared of criminal damage over toppling the statue of slave trader Edward Colston in Bristol and throwing it in the harbour.
The bronze memorial to the 17th century figure was pulled down during a Black Lives Matter protest in Bristol on June 7 2020, and those responsible were acquitted on January 5 following an 11-day trial at Bristol Crown Court.
And in April last year, six Extinction Rebellion protesters were cleared of causing criminal damage to Shell's London headquarters despite the judge directing jurors they had no defence in law.