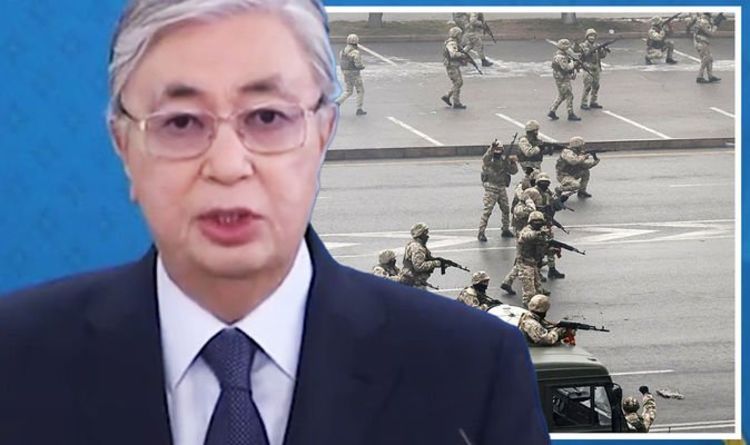 Kassym-Jomart Tokayev told his citizens that the army will not stop shooting until the "terrorists" and "bandits" that he claimed are behind the protests have been "eliminated". The order cames as Kazakhastan continues to experience days of protest against soaring petrol prices, which resulted in mass protests and clashes.
President Tokayev told the country how "a counter-terror operation is ongoing" as he warned that if protesters didn't back down, security forces "should accomplish the fight with them until the end."
While in a chilling comment, he said those who refuse to surrender "will be eliminated".
The enraged dictator went on to accuse "twenty-thousand bandits" of attacking the capital Almaty, who he baselessly claimed were trained "abroad".
He said: "Their acts showed the existence of a clear plan of attack on military, administrative and social objects."
JUST IN: Putin rebuilding Soviet Union: Russian troop deployment has 'eerie echoes' of dictatorship
But in a haunting moment, he used his live address to tell the public that he has ordered troops to "shoot to kill" without warning.
President Tokayev slammed: "Terrorists continue to damage property and use weapons against citizens.
"I gave the order to law enforcement and the army to shoot to kill with lethal force and without warning."
He went on to give "special words of thanks" to Russian President Vladimir Putin who he said "promptly, friendly and warmly reacted" to calls for assistance in crushing the uprising in his nation.
READ MORE Russian submarine collides with Royal Navy warship in the North Atlantic
But stressed troops will be in place "until the militants are completely destroyed".
Protesters stormed the Presidential palace on Thursday setting it alight and trashing the interior.
They also managed to enter the Mayor's offices and take control of the airport as carnage erupted.
Dozens have been killed in the protests after troops open fired on crowds in Almaty.