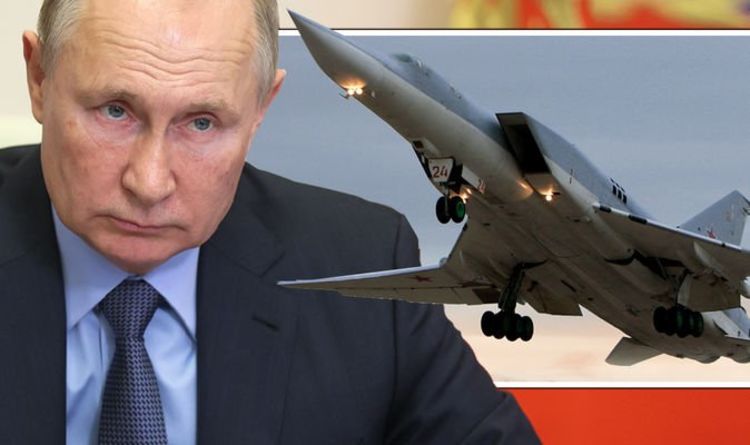 Moscow has sent the bombers on a "practice" mission over Belarus. The nuclear-capable Russian long-range bombers patrolled the skies over Belarus. The move strengthens the close defence ties between the two allies, as tensions with the West escalate.
The Russian Defence Ministry announced yesterday that two Tu-22M3 aircraft flew a four-hour mission to practise "performing joint tasks with the Belarusian air force and air defence".
Belarus sent its own Su-30 fighter jets to act as escorts for the Russian bombers.
Moscow has supplied its ally with these fighter jets.
There are now concerns for the sovereignty of Ukraine after Russian troops build-up near the border.
Kyiv has raised fears of a possible invasion in the new year.
However, Moscow has denied plans for such an attack in 2022.
Ukraine wants the West to provide security guarantees, although these exclude NATO's expansion into Ukraine and the deployment of the alliance's weapons there.
The news comes after the EU has accused Belarusian president Alexander Lukashenko of encouraging illegal border crossings into neighbouring Poland.
READ MORE: Covid horror as ANOTHER new variant discovered in France
"Already with bilateral talks with President Biden President Putin, President Biden had consulted with the European allies before which on the surface reinforces the position of the West.
"However, it also erases Europe from the negotiations entirely, negotiations about Ukraine, where France and Germany are part of the Normandy Format and have positioned themselves as mediators in the conflict nevertheless, are disappearing now in this new configuration.
"This has been very much desired and achieved by Russia.
"It is more or less a Cold War configuration where two great powers the US and Russia, which want to protect itself as a great power, negotiate about the fate of Europe among each other."