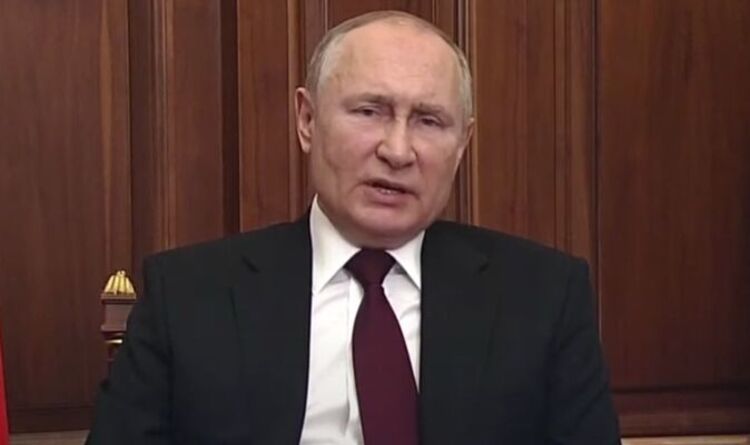 The Russian President decided to recognise Russia-backed Donetsk and Luhansk this afternoon. The recognition of independence is speculated to be a potential pretext for placing troops in Ukrainian territory.
Now, the EU has reacted by saying it will impose sanctions against those involved in the "illegal act".
In a joint statement, Ursula von der Leyen, the European Commission President, and Charles Michel, President of the European Council, said this evening (Monday) that they "condemn in the strongest possible terms the decision by the Russian President to proceed with the recognition of the non-government controlled areas of Donetsk and Luhansk oblasts of Ukraine as independent entities.
"This step is a blatant violation of international law as well as of the Minsk agreements."
They added: "The Union reiterates its unwavering support to Ukraine's independence, sovereignty and territorial integrity within its internationally recognised borders."
Economic sanctions are also expected to be announced imminently by Joe Biden, the US President.
Jen Psaki, White House spokesperson, said in a statement that the US President would soon issue an executive order that would prohibit "new investment, trade, and financing by US persons to, from, or in" the two breakaway regions.
The order will "also provide authority to impose sanctions on any person determined to operate in those areas of Ukraine".
Ms Psaki said more measures would be forthcoming, and that these were separate from sanctions that the United States and its allies have been preparing if Russia invades Ukraine.
This evening the UK Government confirmed that it will be announcing sanctions against Russia tomorrow in response to Mr Putin's declaration.
Liz Truss, the Foreign Secretary, said the sanctions were "in response to [Russia's] breach of international law and attack on Ukraine's sovereignty and territorial integrity".
The Guardian reports that the sanctions will not go as far as the full package available to the Government, but are expected to go further if Russia were to invade.
Mr Putin gave the announcement at the end of a TV address which lasted around an hour.
His decision follows requests by the leaders of the two separatist regions to be recognised after breaking away from Ukrainian control in 2014.
It is also said to be in contravention of the Minsk agreement, a seven-year ceasefire brokered by France and Germany.
In his address, Mr Putin claimed the US and NATO have "unashamedly turned Ukraine into a theatre of war", according to Sky News.
He said he believed Ukraine plans to create its own nuclear weapons, adding that if it did, "the global situation will change drastically, we cannot ignore this".
Western leaders fear that Russia may mount an invasion on Ukraine any day, with allies sending defensive equipment.
Defence Secretary Ben Wallace told the House of Commons earlier today that there were now 110 battalions of Russian troops on the border.
Last night, Boris Johnson told the BBC that intelligence suggests Russia is planning "the biggest war in Europe since 1945".
The Prime Minister added: "All the signs are that the plan has already in some senses begun."
In a debate on the issue today, Mr Wallace said: "The United Kingdom is unwavering in our support for Ukraine, along with allies and partners.
"We are committed to defending regional security, we have long supported Ukraine's defence capability as well as regularly exercising with their armed forces, and via defence engagement channels.
"We must not allow Russia's destabilising behaviour to influence territorial integrity of any other sovereign state. The UK remains steadfast in its support for Ukraine."
The Defence Secretary later added: "Ukrainians consider themselves European, and it is absolutely the case that the ripples of anything that happens in Ukraine will be felt right across Europe, whether they are in NATO or not."