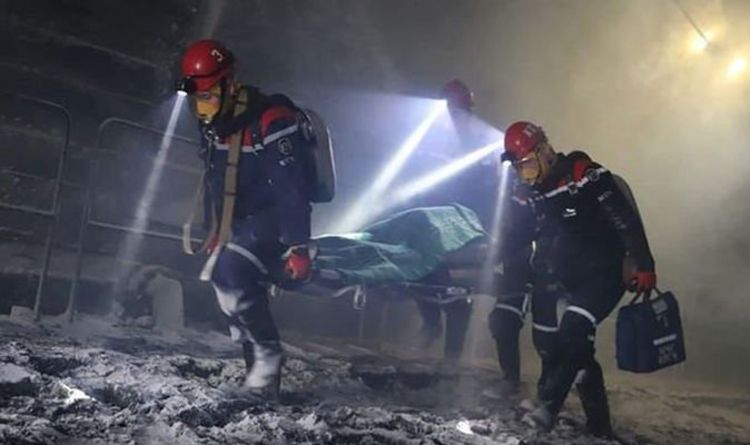 Emergency services have managed to save over 200 people from the mine following the explosion. The explosion took place in the Listvyazhnaya coal mine, in Russia's Kemerovo region of Siberia. According to reports, the explosion took place in an airway shaft of the mine.
Due to this, a fire is reported to be raging in a ventilation tunnel.
A local emergency source previously said: "According to preliminary data, none have bodily injuries.
"They inhaled (smoke) as a result of the explosion."
An investigation has now been launched by the region's prosecutor's office.
According to sources, 45 people have also been injured from the incident.
Investigators said smoke had spread across the mine at 8.35am on Thursday.
Multiple workers have also suffered from smoke poisoning.
A methane blast was previously reported in the mine and resulted in the death of 13 people.
JUST IN: Putin to strengthen military coordination with China against West
Rescuers attempted to save a further 26 trapped miners before another blast occurred.
The blast killed five rescue workers and a miner.
Before today's incident, the 2016 Vorkuta explosion was one of the worst in the country's history.
Russia's Emergencies Minister Vladimir Puchkov said at the time: "The circumstances in the affected part of the mine did not allow anyone to survive.
"In the underground space where the 26 miners were, there are high temperatures and no oxygen."
In 2019, a dam collapsed at a gold mine and killed 15 people.