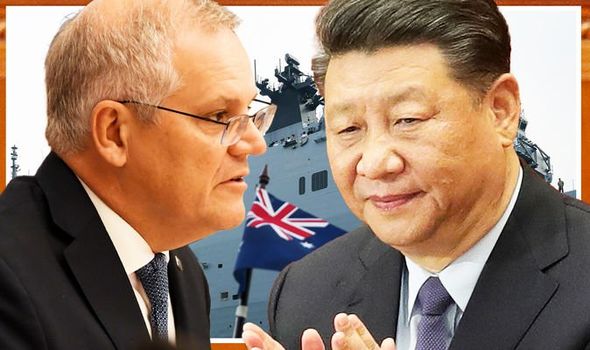 AUKUS shows world UK is 'standing on own two feet' says Baker
But the news prompted a terse response from Beijing, with an official spokesman warning the deal "should not target or harm any third party interests". Australian Prime Minister Scott Morrison said he and Japanese counterpart Fumio Kishida would on Thursday sign a Reciprocal Access Agreement, setting out for the first time a framework for the two countries' defence forces to cooperate with each other.
Speaking on Wednesday, Mr Morrison said: "This treaty will be a statement of our two nations' commitment to work together in meeting the shared strategic security challenges we face and to contribute to a secure and stable Indo-Pacific."
The strengthened security ties expand on efforts by the United States, Japan, India and Australia – dubbed the Quad – to work on shared concerns relating to China, including its pressure on Taiwan, trade disputes and freedom of navigation in the region.
Mr Morrison added: "Our cooperation also includes an expanding agenda for the Quad with India and the United States, and our shared technology-led approach to reducing carbon emissions."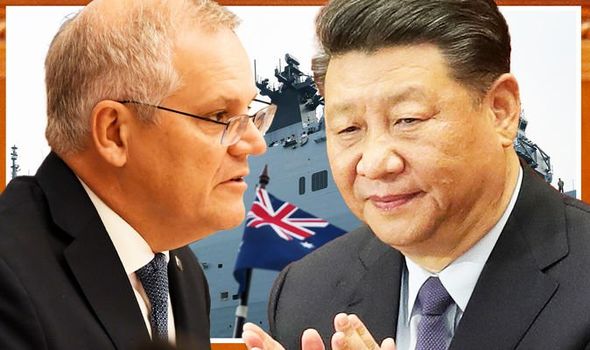 Scott Morrison's Australia has struck a defence agreement to counter Chinese expansionism (Image: GETTY)
Wang Wenbin, Chinese Foreign Ministry spokesman (Image: GETTY)
Australia and Japan also plan to discuss opportunities to strengthen government and business partnerships on clean energy, critical technologies and materials.
Chief Cabinet Secretary Hirokazu Matsuno, Japan's top government spokesman, said "common important challenges will be discussed in a candid manner" at the summit.
He added: "Japan-Australia relations will be further enhanced, and towards the realisation of a free and open Indo-Pacific, we will reaffirm our cooperation."
JUST IN: Tony Blair's Defence Secretary claims he was told to BURN Iraq memo
Fumio Kishida, Japan's PM (Image: GETTY)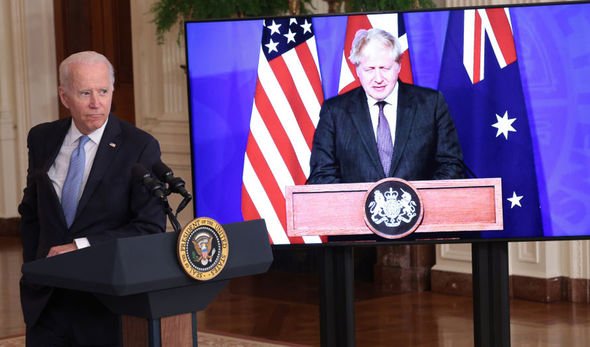 Boris Johnson and Joe Biden discuss the AUKUS agreement last year (Image: GETTY)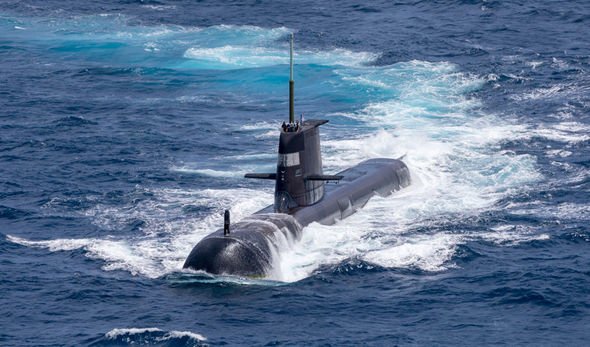 Collins class submarines are being replaced as part of the Aukus deal (Image: GETTY)
Specifically questioned about the agreement, foreign ministry spokesman Wang Wenbin told a daily news briefing on Wednesday: "It should not target or harm any third party interests."
The deal is particularly notable given Japan and Australia were on opposite sides during World War 2.
Japan carried out a series of air raids on Australia, the first and deadliest of which was on the northern city of Darwin on February 19, 1942. At least 235 people killed.
South China Sea mapped (Image: Express)
Britain, Australia and the US last year signed the trilateral AUKUS deal, also seen as a bid to counter Chinese influence in the Asia-Pacific region.
Speaking to Express.co.uk afterwards, Tasmanian Senator Eric Abetz, chairman of the Senate's Foreign Affairs, Defence and Trade Committee, said: "Security challenges in the Indo-Pacific are greater than ever and Australia must be ready to meet those challenges head-on.
"This new trilateral security partnership and the nuclear submarines that will be a result of it is evident of the strong relationship between the three nations and their commitment to greater global security.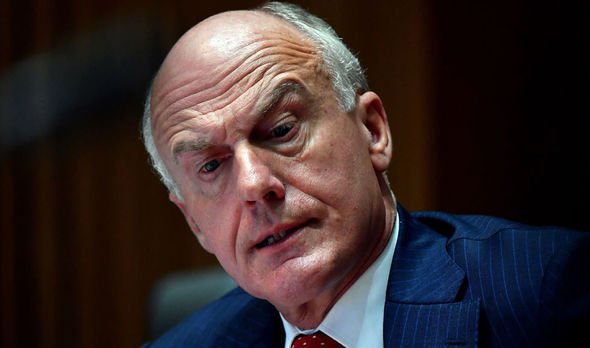 Senator Eric Abetz (Image: GETTY)
"Freedom-loving countries of the world must stand together and Australia, the US and the UK have demonstrated their deep commitment to one another and a free world."
He added: "The balance of power in the Indo-Pacific has slowly shifted with an aggressive CCP dictatorship and this partnership sends a strong message that our nations will defend freedom and each other."
Moving on to specifics, Mr Abetz said: "As a long-time advocate for nuclear submarines, this is a welcome move which will greatly improve Australia's security capabilities.
"Our unique geography and our location in the Indo-Pacific requires dynamic naval capabilities and nuclear submarines will serve that end very well."