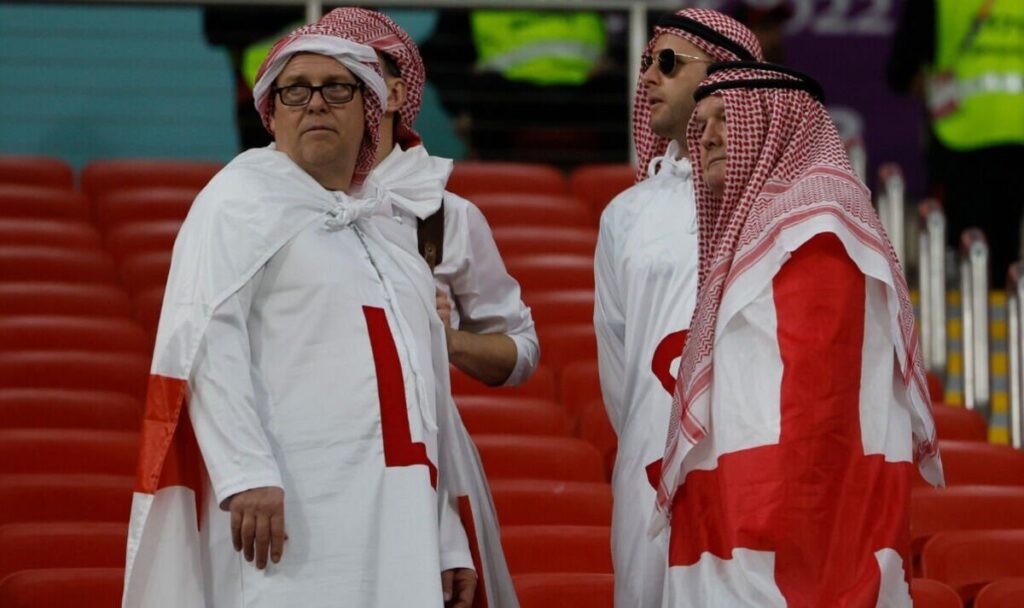 England fans attending the FIFA World Cup in Qatar have been warned not to wear Islamic dress while going to a hotel or a bar for a drink, a news report has claimed. Fans attending the World Cup in the host nation are often spotted wearing Qatari dress – a headdress and flowing Arabic robe.
Many are seen wearing the ankle-length thobe worn across the Middle East, usually paired with a ghutra head scarf.
While the enthusiasm has been welcomed by the locals with fans being requested to pose for the pictures, a spokesman for Qatar's Supreme Committee has warned that fans "should not be wearing" Islamic dress inside hotels and bars where alcohol is sold.
According to Qatari rules, one is prohibited from wearing thobes in bars and nightclubs.
The spokesman added that the rules equally apply to the fans who are attending the matches and wearing Qatari dress.
They said: "It's up to the venues to decide, but the rules are not just for Qataris."
The Telegraph reported that some of the fans in Qatar have been requested to take off their thobes before entering hotels and bars.
To avoid any conflict with the Qatari authorities, many of the venues which are run or owned by British expats are now enforcing a partial ban on thobes.
One bar owner, who did not wish to be named, told The Telegraph he was trying to be "fair" to fans by banning traditional white robes but allowing World Cup-themed outfits in bright colours.
READ MORE: Biden grants more aid for Ukraine as Russia 'expands' nuclear arsenal
He said: "This has happened to me many times and I'm getting a bit sick of it.
"The security staff tell us that Qataris find it offensive because this outfit should only be worn for prayers and that it is exclusive to Muslims.
"I am not trying to offend anyone. I'm just trying to show my appreciation of Qatari and Muslim culture.
"It's nonsense asking me to remove my robe."
It comes after FIFA announced a ban on England fans wearing Crusader costumes, with anti-Islamophobia charities warning the garb could be offensive to Muslims.
In a statement, the Qatar Supreme Committee said: "National dress is not permitted in a number of venues and bars across Qatar – this is just business as usual."