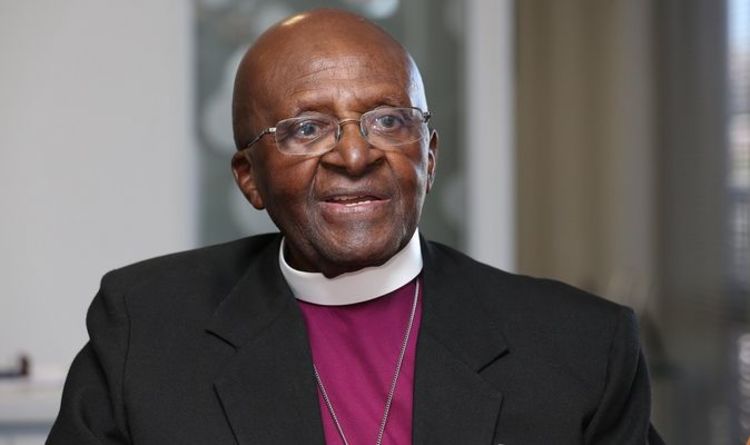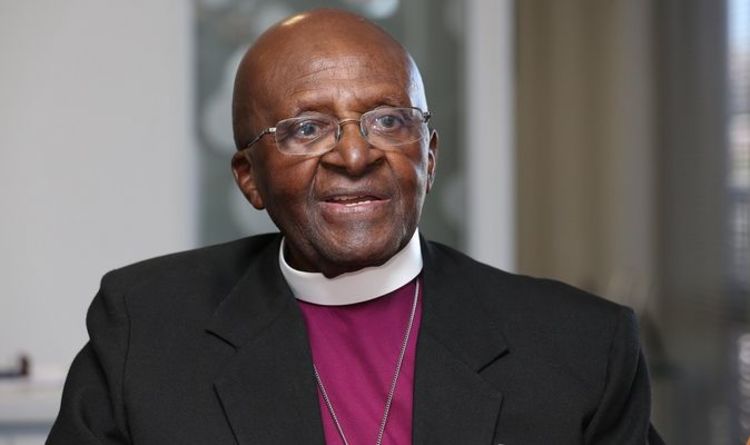 The anti-apartheid campaigner passed away in Cape Town at the age of 90. Mr Tutu was diagnosed with prostate cancer in the late 1990s. He has been hospitalised several times in recent years to treat infections associated with his cancer treatment.
In a statement on behalf of the Tutu family, Dr Ramphela Mamphele, acting chairperson of the Archbishop Desmond Tutu IP Trust and coordinator of the Office of the Archbishop, said: "Ultimately, at the age of 90, he died peacefully at the Oasis Frail Care Centre in Cape Town this morning."
Dr Mamphele did not give details on the cause of death.
The statement said Mr Tutu was a man who "turned his own misfortune into a teaching opportunity to raise awareness and reduce the suffering of others."
It added: "He wanted the world to know that he had prostate cancer, and that the sooner it is detected the better the chance of managing it."
Speaking about the Archbishop's death, South African President Cyril Ramaphosa said: "The passing of Archbishop Emeritus Desmond Tutu is another chapter of bereavement in our nation's farewell to a generation of outstanding South Africans who have bequeathed us a liberated SA.
"Desmond Tutu was a patriot without equal; a leader of principle and pragmatism who gave meaning to the biblical insight that faith without works is dead."
The President described him as "a man of extraordinary intellect, integrity and invincibility against the forces of apartheid"
He added: "He was also tender and vulnerable in his compassion for those who had suffered oppression, injustice and violence under apartheid, and oppressed and downtrodden people around the world."
DON'T MISS:
Boris and Truss told tactics 'not playing out well' on global stage [REVEAL]
UK weather forecast: FIVE days of snow to hit in bone-chilling Xmas [REPORT]
Queen cancels Christmas at Sandringham with Royal Family [INSIGHT]
The campaigner, who was one of South Africa's most well-known human rights activists, won the Nobel Peace Prize in 1984 for his role in the opposition to apartheid in South Africa.
Apartheid was a system of institutionalised racial segregation that existed in South Africa and South-West Africa (now Namibia) from 1948 until the early 1990s.
President Ramaphosa said Archbishop Tutu articulated the "universal outrage at the ravages of apartheid and touchingly and profoundly demonstrated the depth of meaning of ubuntu, reconciliation and forgiveness."
He added: "He placed his extensive academic achievements at the service of our struggle and at the service of the cause for social and economic justice the world over.
"From the pavements of resistance in SA to the pulpits of the world's great cathedrals and places of worship, and the prestigious setting of the Nobel Peace Prize ceremony, the Arch distinguished himself as a non-sectarian, inclusive champion of universal human rights."
Born in 1931, Archbishop Tutu became the first Black Anglican Archbishop of both Cape Town and Johannesburg.
An outspoken critic of apartheid, the Archbishop also supported the economic boycott of South Africa, while encouraging reconciliation.
When Nelson Mandela was elected as the nation's first Black president, he appointed Archbishop Tutu chairperson of the Truth & Reconciliation Commission.
People across the world have paid tribute to the Archbishop, with UK Prime Minister Boris Johnson saying he is "deeply saddened" by the death of archbishop Desmond Tutu.
He said: "I am deeply saddened to hear of the death of Archbishop Desmond Tutu.
"He was a critical figure in the fight against apartheid and in the struggle to create a new South Africa – and will be remembered for his spiritual leadership and irrepressible good humour."
Labour leader Sir Keir Starmer described the activist as "a tower of a man" whose legacy will "echo through generations".
The mayor of Cape Town, Geordin Hill-Lewis, also paid tribute to Archbishop Desmond Tutu, saying: "We love you Arch and we will miss you".
Mourners have been gathering all day outside Mr Tutu's former parish in Cape Town, St George's cathedral, and outside his home with flowers.
Meanwhile, the South African cricket team wore black armbands to honour his life in their first test against India.
Speaking about his life, President Ramaphosa said: "In his richly inspiring yet challenging life, Desmond Tutu overcame tuberculosis, the brutality of the apartheid security forces and the intransigence of successive apartheid regimes. Neither Casspirs, teargas nor security agents could intimidate him or deter him from his steadfast belief in our liberation.
"He remained true to his convictions during our democratic dispensation and maintained his vigour and vigilance as he held leadership and the burgeoning institutions of our democracy to account in his inimitable, inescapable and always fortifying way.
"We share this moment of deep loss with Mam Leah Tutu, the Archbishop's soul mate and source of strength and insight, who has made a monumental contribution in her own right to our freedom and to the development of our democracy.
"We pray that Archbishop Tutu's soul will rest in peace but that his spirit will stand sentry over the future of our nation."