Covering her dance partner Giovanni Pernice's ears as the music faded to silence, Rose Ayling-Ellis – Strictly Come Dancing's first deaf contestant – gave millions a brief but poignant insight into her experience on the show.
Those 15 seconds or so during the couple's routine to Symphony by Clean Bandit and Zara Larsson were immediately hailed as the show's greatest ever moment by judge Anton Du Beke, who has been involved in the dance competition since it launched in 2004, and had many viewers on social media saying they had been moved to tears.
It was a simple, beautiful insight into not only what Ayling-Ellis is overcoming to stay up there among Strictly Come Dancing's best performers each week – relying on the beat and vibrations to find her rhythm – but also just how much fun she is having while doing it.
Ayling-Ellis has certainly made an impact. The RNID (Royal National Institute For Deaf People) told Sky News it had seen a 71% increase in page views to its British Sign Language (BSL) online page from October up to the beginning of December, compared with July to September. And Signature, the awarding body for BSL courses, has reported that 83,000 people visited its website in October – more than triple the 25,000 in September.
On the show, the EastEnders actress is accompanied by an interpreter and the production team have had deaf awareness training and learned some sign language – and other contestants and presenters can often be seen on camera signing for applause.
Sitting alongside Pernice during a break from rehearsals, Ayling-Ellis tells Sky News she is proud of what she has achieved during the series.
"It's nice to be part of history, being the first deaf [contestant] on Strictly," she says. "I think it's super important because it's an opportunity to show on such a big platform with millions of people watching, and change their concept of what they think deaf people are like. I'm very proud of that."
Before the silent element routine, Ayling-Ellis and Pernice had received the earliest perfect 40 score in the show's 19-year history. They are favourites to win.
Pernice says the silent element during Symphony was a "small understanding" of his partner's experience for him as a dancer, but a "big understanding" for the millions watching in terms of the impact it has had. The professional dancer had the opportunity to wear a device hat would help him keep the rhythm, he says, but decided against it.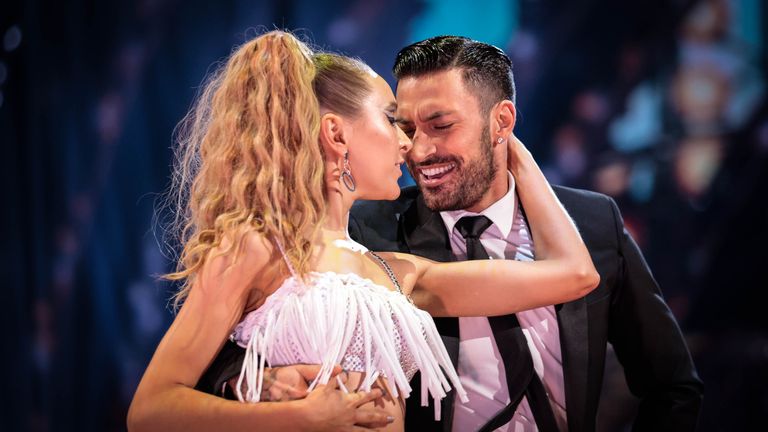 "The impact that Rose is making to this show is very important for me and to everybody else who's watching. We stopped the music just to make everybody understand what Rose is going through. I really am pleased at what we're doing because we are entering in the deaf world, which is a normal word like anything else.
"The [silent dance] was quite a short amount of time. But the impact and the gist that the silence had is bigger than anything else. That made me understand as a professional dancer what she's going through and I think everybody else at home, really.
"At the beginning of [that] week, they give me like a kind of belt that felt vibration just to keep the rhythm. And then I thought, you know, Rose is doing this for 10 weeks without any belt. I should do the same."
Ayling-Ellis says having that moment makes her feel like a winner already. "I think it's always going to be a very special moment for me that I will remember for the rest of my life," she says. "I think I'm learning so much about myself. Before Strictly and now, I definitely feel I've become a bit more confident and comfortable in my own skin."
Unsurprisingly, the star has been inundated with messages of support – and gratitude – from deaf viewers.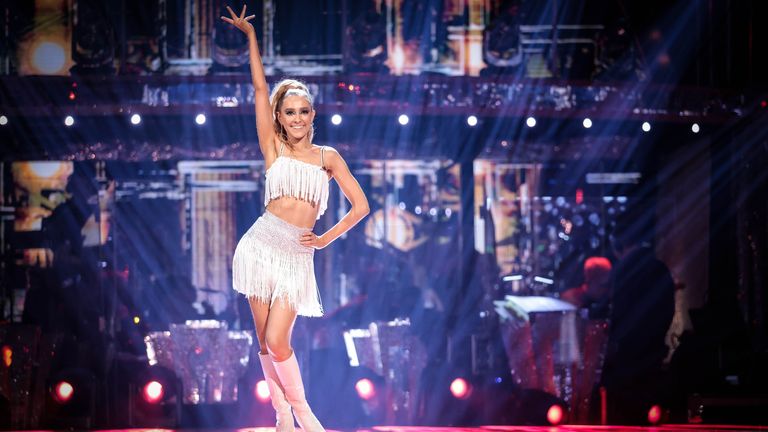 "They love it because it's the first time ever they get to see someone deaf regularly, every single Saturday night they know, guaranteed, there's a deaf person on [Strictly]. And it shows the culture and their community… because deaf people are not just deaf people.
"It's nice for them to be able to see that on such a major platform show. And also for deaf children as well, for them to have a role model. So many of us never had that growing up."
Not only that, but Ayling-Ellis is even a favourite with other contestants, too. Despite competing on the show himself, BBC Breakfast presenter Dan Walker described her silent dance as "one of the best things I've ever seen on telly" – and admitted to Sky News he has voted for her "since day one".
"My dad is deaf. I know through him how hard it is to be outside of a conversation or to not feel part of something because you can't hear it. And I know from my own experience how hard it is to dance when you can hear the music. So to do what she's doing… I just think she's amazing."
Subscribe to the Backstage podcast on Apple Podcasts, Google Podcasts, Spotify, Spreaker
Mark Atkinson, chief executive at RNID, told Sky News the actress's impact has been "huge" – not just for the deaf community but for those who can hear, too.
"Deaf representation on TV is so important, especially on a major show like Strictly," he said. "Many deaf people have told us how delighted they are to see Rose breaking down barriers and showing that deaf people can do anything – including dancing, acting, and performing."
Mr Atkinson said it was "fantastic" to see the increased interest in sign language and that "even knowing a little bit" can make a difference. "Everyone at RNID is fully behind Rose and loving watching her progress through the competition," he added.
"We hope that her success on Strictly will open up many more opportunities for deaf people and people with hearing loss to use their talents to the full. Rose is an outstanding dancer, as well as a brilliant role model, and we hope she goes all the way to win the competition and claim the glitterball."
Ayling-Ellis, however, says she is not thinking about winning or focusing on all the attention that is on her at the moment.
"Because it's coming to an end now, I just really want to enjoy my experience because I'm not going to do this ever again," she says. "I want to be able to look back and be like, I really enjoyed my time. And I am."