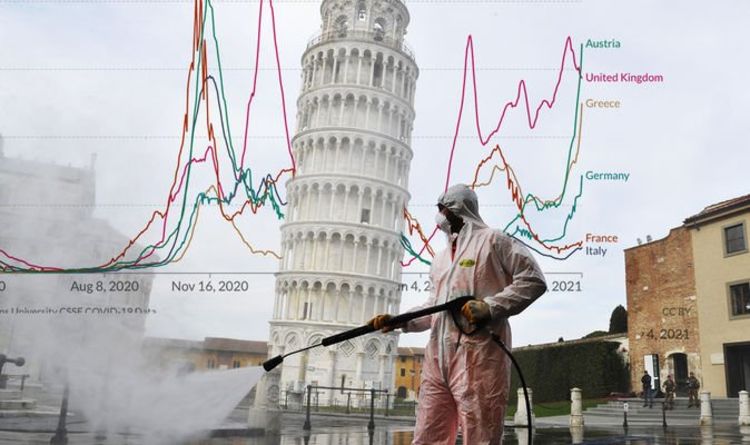 While the UK remains among the most infectious developed nations – with 574.31 cases per 100,000 people – others are steadily catching up. The latest figures show many other European countries now have case totals pointing upwards where they once declined. They also show this new wave is crashing through the continent from east to west.
The latest Covid wave is currently building around the Baltics, which have some of the highest case rates in the world.
Estonia has the highest recorded caseload; a total of approximately 1,370 infections per 100,000 people.
Slovenia is just behind with 1,200, and cases have spilt over into neighbouring Latvia and Lithuania, on 1,160 and 984.97 each, respectively.
Sandwiched between those two is Georgia, thousands of miles further down the Russian border, on 1,110 infections.
They have long sported some of the highest Covid rates, but there is now an undeniable uptick in some of the continent's least affected nations.
Another cluster is spreading west from Ukraine and up to the Italian border.
While Ukraine's case rate is comparatively low, just below the UK's with 532.96, Romania, Serbia, Croatia and Slovenia have reported 517.1, 889.33, 876.92 and 1,200 cases per 100,000 people, respectively.
READ MORE: WHO sound alarm over 'real threat of Covid resurgence
Beyond that chain, countries with much lower rates have now seen theirs start to rise as well.
Austria, which like Slovenia, shares a border with Italy, has seen its cases surge in recent weeks, pushing its infection rate to 674.04.
Italy itself, which has one of the lowest rates in Europe, has seen totals stretch to 74.48.
In late October, the country was several points lower, between 68 and 70 per 100,000.
France and Germany have gone the same way, but with a much more pronounced spike.
Germany, which until October didn't have too many cases more than Italy, has slipped.
The latest data shows officials have reported nearly double the caseload compared to mid last month.
Roughly 286.66 Germans have a Covid infection per 100,000 people at present.
And in France, which had a rate of 70 in late October, has a new rate closing in on 100, now at 92.9.
Greece, too has had a dramatic increase in infections, rising from 268 at the same time to 498.78 now.
These new hotspots have sprung up in a short time, but not unexpectedly.
A host of factors has made the last few days and weeks especially precarious for health officials across Europe.
Autumn and winter are starting to bite, and not every country is protected.
DON'T MISS
Why cases have started multiplying across Europe
The spread pattern from east to Western Europe is not unusual, given how Covid and other infections thrive.
Germs spread best during colder climates, which are more pursuant in the east and now spreading west.
Viruses can survive much longer on cold surfaces than warm ones, and will more efficiently spread between people as they opt for inside rather than outside gatherings.
People in countries where vaccination rates are lower are much more susceptible to the increasing winter threat.
In Italy, the UK, France and Germany – where cases are now starting to pick up – total vaccine coverage is low.
Health officials there have fully vaccinated about 70 to 75 percent of their citizens.
The countries doing the worst, such as Bulgaria and Romania, have lower vaccination levels, fewer measures in place, and increasingly overburdened health systems.
They have total vaccine coverage at or below 50 percent.
Countries need between 80 and 90 percent of the their population to be vaccinated to avoid overwhelming hospitals and health authorities.
Several nations have started to prove this rule, coming into the winter surge with barely a nudge in their case totals.
Portugal, Malta and Spain each have negligible case levels while their neighbours struggle.
Spain currently has one of the lowest rates in Europe, approximately 41.74 cases per 100,000 people.
The country has vaccinated 81.44 percent of residents, according to figures from Our World in Data.
Malta has slightly elevated infection levels, with a rate of 45.25.
And it has completed more vaccinations, covering 83.79 percent of the Maltese population.
A tiny rate, just 0.43 percent of people, have only partial coverage from the vaccine.
Portugal is the highest of the three, but with barely any recent changes in infection level.
Approximately 83.1 people per 100,000 have contracted Covid in the country.
Portugal has fewer measures than neighbouring Spain but a higher vaccination rate, covering 88.78 percent of the local population.