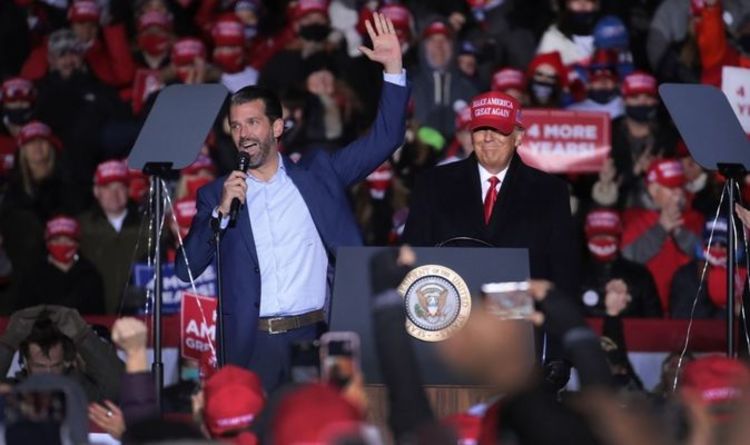 The panel currently investigating the storming of the Capitol building has revealed some of the worrying texts received by the former White House chief of staff, Mark Meadows. US lawmaker Liz Cheney, the vice-chair of the committee investigating if the former President had foreknowledge of the riot, read several texts to the Select Committee on Monday.
She said: "As the violence continued, one of the President's sons texted Mr Meadows."
Donald Trump Jr. first texted: "He's got to condemn this shit ASAP," to the White House chief of staff as footage of rioters inside the Capitol shocked the whole world.
She said Mr Meadows responded to Mr Trump Jr's plea by writing back: "I'm pushing it hard. I agree."
"Still, President Trump did not immediately act," Ms Cheney said, and "Donald Trump Jr texted again and again."
"Quote, 'We need an Oval office address. He [ex-President Trump] has to lead now. It has gone too far and gotten out of hand,' end quote."
The riot took place as politicians were voting to certify the election result in favour of President Joe Biden and Ms Cheney said they raised questions about whether Mr Trump sought to obstruct the congressional certification through inaction.
She said: "These texts leave no doubt.
"The White House knew exactly what was happening at the Capitol."
READ MORE: Trump blames Democrats for Capitol riots Knew crowds would be massive'
The President was criticised for not intervening early on in the riot.
Three hours after the mob entered the Capitol, he released a video in which he said: "Go home. We love you. You're very special."
A few hours later, he tweeted: "Go home with love & in peace. Remember this day forever!"
The riot resulted in five deaths and more than 500 arrests.