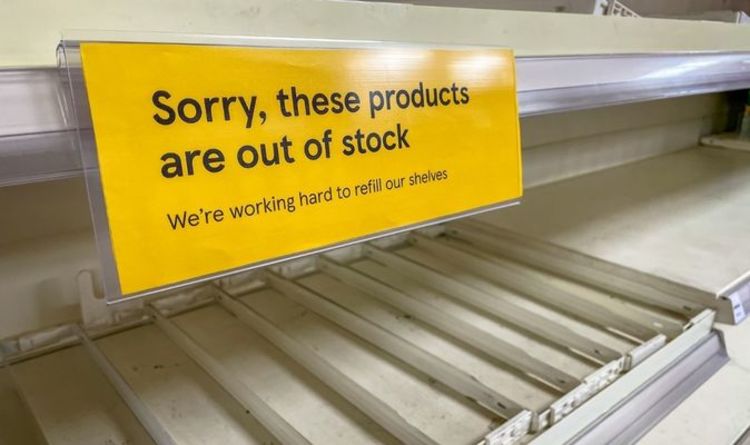 The video, of a Walmart in Georgia, US shows the extent of supply issues across the pond . One Twitter user responded saying: "Brexit has crossed the pond then…".
In response to the video, another Twitter user joked: "The impacts of Brexit are far-reaching it would seem."
Another user commented ironically: "Damn Brexit! Seems the side effects are globally contagion."
Some users blamed Covid as the likely culprit of the bare shelves.
One wrote: "1,000,000 cases a day and 1600+ deaths might have an impact, who woulda thunk?".
A poll by YouGov highlights the difference in views of Remainers and Leavers, with 65 percent of those who voted to remain blaming Brexit for the supply issues.
In contrast, just 21 percent of Leavers said the problems were caused by England's decision to leave the EU.
Instead, 37 percent of leave voters believe coronavirus is likely the cause of recent shortages.
One man posted a similar image just days before displaying empty shelves at a different US supermarket in Washington DC.
Commenting on a post, one user mocked Remoaner fears, saying: "Brexit finally hits the US."
READ MORE: Keir Starmer shamed: Labour's 'hypocritical' attack on Boris
Because of this, several countries across Europe were impacted by lorry driver shortages, in an industry that has seen decreasing numbers of workers over the last few years.
According to the International Road Transport Organisation, 22 percent of driver positions were left unfilled in Poland during 2019.
In the UK, that number stood at 24 percent while Spain and the Czech Republic registered 21 and 20 percent respectively.
YouGov's poll also found remain voters are 15 percent more likely to report noticing shortages on supermarket shelves compared to Leavers.
Data from the poll suggests, as with most political events, reactions to the supply issues are driven by existing political views.