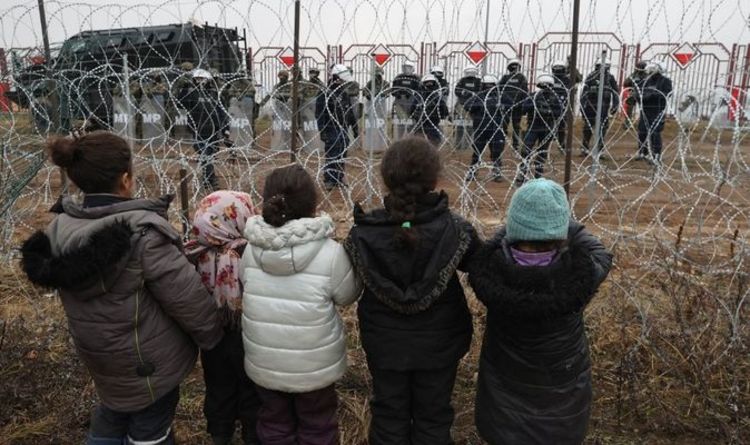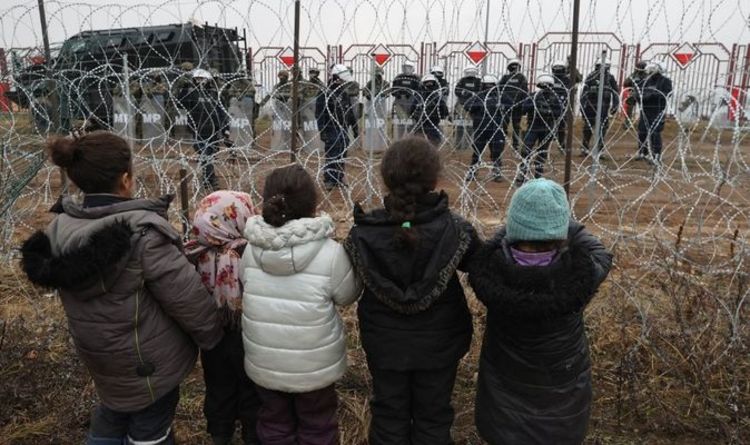 At least 4,000 asylum-seekers from the Middle East are currently stranded at the Polish border in freezing weather as they try to enter the EU via Poland and Lithuania. Earlier this month, a teenage boy died of hypothermia as the freezing temperatures at night can go as low as minus three degrees Celsius.
Eight people have reportedly died since the start of what has been labelled a migrant crisis by the bloc.
However, Polish activists believe that number could be higher.
The European Union has accused Belarus of mounting a "hybrid attack" to destabilise the bloc by flying in thousands of migrants from war-torn areas and encouraging them to cross the border into the EU illegally.
Mariusz Błaszczak, the Polish defence minister, told Poland's Radio Jedynka on Wednesday that solving the crisis could take months.
Mr Błaszczak said: "We have to prepare for the fact that the situation on the Polish-Belarusian border will not be resolved quickly.
"We have to prepare for months.
"I hope not for years."
Poland has declared a state of emergency on the frontier and denied access to media and humanitarian agencies.
READ MORE: 'This is a test!' Putin sends 'warning to West' as 100,000 troops
Andrzej Duda, the Polish President, said on Wednesday: "I told the president of Germany that Poland would not recognise any arrangements regarding the situation on the Polish-Belarusian border that would be made over our heads."
In the same vein, Josep Borrell, a spokesperson for the EU foreign affairs chief said: "Lukashenko has no legitimacy for the EU, he cannot be considered president since he manipulated the last presidential elections in August 2020.
"He is on the EU sanctions list for electoral fraud, violation of human rights and continued oppression of his population."
However, the EU has agreed to donate €700,000 (£590,000) to deliver food, blankets, hygiene and first aid kits to asylum-seekers trapped at the border.
Ursula von der Leyen, the president of the European Commission, said: "Europe is at the side of the people trapped at the border with Belarus.
"We are ready to do more. But the Belarusian regime must stop luring people and putting their lives at risk."