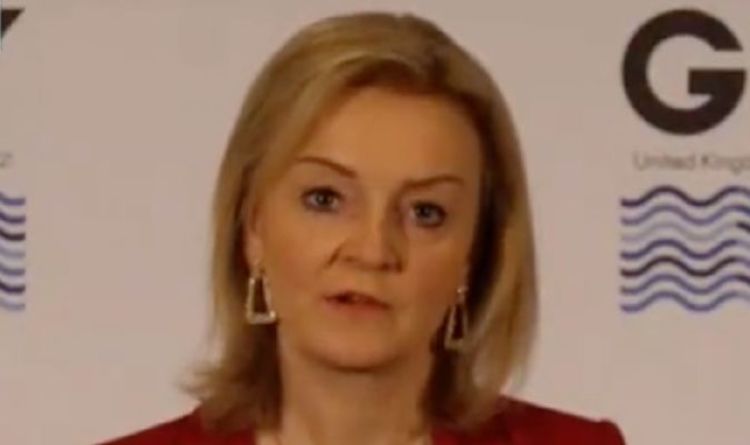 Speaking at the G7 meeting in Liverpool, Ms Truss warned Russian President Vladimir Putin of sanctions as she stressed it was of "deep concern" that Russia have amassed an estimated 70,000 troops and a raft of military hardware at four locations along the border of Ukraine.
It comes as the Sunday Times newspaper reported that, according to US intelligence, plans have been drawn up that indicate Russia are intending to send "175,000" troops to war in Ukraine.
But her comments sparked mockery online with some observers suggesting the threats are "b*******" and would make little difference to Mr Putin's terrifying invasion plans as fears of war soar.
Ms Truss slammed how the threat of western sanctions, agreed by G7 leaders including US Secretary of State Antony Blinken, has "sent a powerful signal to our adversaries and our allies".
She added: "We have been clear that any incursion by Russia into Ukraine would have massive consequences for which there would be a severe cost.
JUST IN Russian invasion of Ukraine will 'be over in days' – Putin to complete his 'life's work'
"We have also shown that we stand for freedom and demcoracy and the right of people everywhere to live free from oppression."
Ms Truss went on to say how the West need to make the positive case for "individual humanity and dignity" to Russia, which she said "lies at the heart of our democratic free societies".
US President Joe Biden added to the threats warning President Putin will "pay a terrible price" if he pushes ahead with the invasion which observers fear could come as soon as next year.
Despite the threats, the comments from the Foreign Secretary sparked mockery online with observers noting that nothing would likely change unless military action is taken to stop Russia's onward march into the Donbas region.
READ MORE Putin starts countdown to war as major naval strait blocked off
"Once he's in, he's in. He is still in Crimea."
The invasion would see Russia enter eastern and south eastern areas of Ukraine, a region which has been engulfed by war since 2014 when Russia entered Crimea and triggered an insurgency in the Donbas.
14,000 people have died since the outbreak which is being fought between Ukraine and Pro-Russian seperatists.
Almost one-million regular and reservist Ukrainian soldiers have been put on alert of imminent invasion.