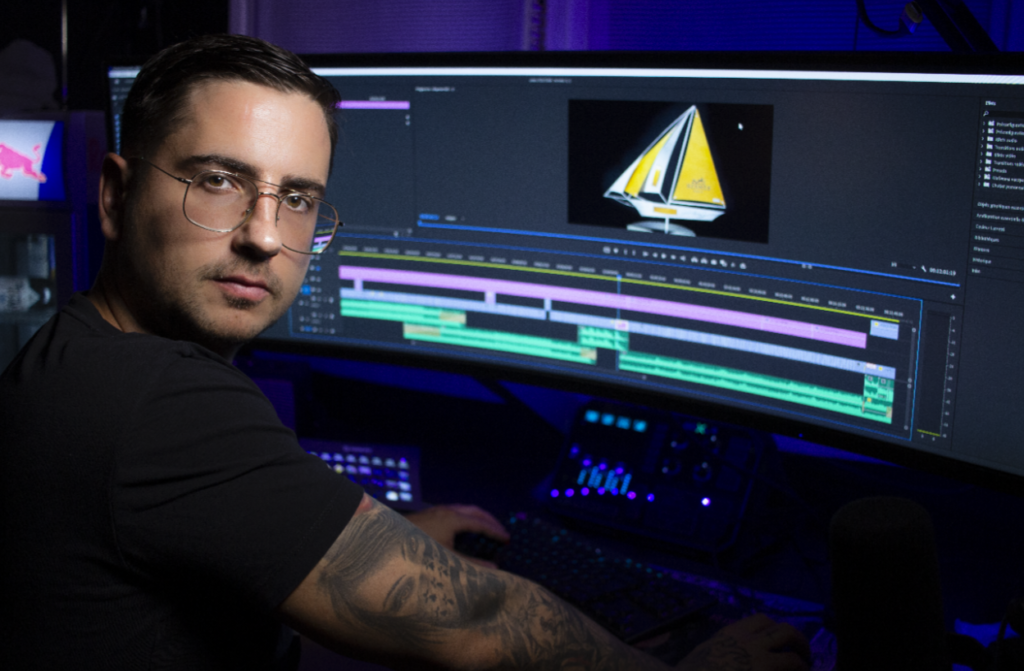 This true genius is an exceptional artist in different fields. He has an artistic background and knows other things. Those include metallurgy to a level of expertise, leather working, and more. Arcanis started as a metalworker and won 2 medals for this exceptional talent as those creations represent his assertive art.
It is just the beginning of his journey, and there is much more to come as he launches his YouTube channel to showcase his artistic capabilities. This YouTube channel brings opportunities for others to learn and create such pieces of art.
"Arcanis Design" YouTube channel
Arcanis Design is his YouTube channel, where he posts tutorials and YouTube shorts to reveal his ideas and masterful creations. Arcanis knows how to do everything related to his field and does everything with a master's hand.
The first YouTube video was posted on the 6th of February 2022, so this channel has just begun. Only a few videos on the YouTube channel are available today with some shorts. However, within these few months, this YouTube channel has collectively got over 11K views on all the videos and over 500 subscribers.
On this YouTube channel, the top video is of the Hermes steel boat. Here viewers can learn everything about making the boat, from the freehand sketching to the metal work that includes welding and then working with leather. It is a pristine piece of art that can be a perfect decoration item at any place, table, wall, etc.
The video begins with freehand sketching of the boat, and then Arcanis moves towards metal working. The main metallurgy working inside this video is welding different rods together to form the base structure for the boat. So, this video is one of the best ways to learn about the "Le Bateau" or "The Boat" concept of art from Arcanis that shows the cultural heritage and passion.
Arcanis has for this type of art.
It is a perfect combination of artistic feat and technicalities of working with metals. As the video proceeds, Arcanis shows his expertise with leatherworking. The major cutting and shaping help is taken from a laser cutting machine for leather. Thus, this video perfectly represents this traditional art and modern-day technologies.
Another one of the top videos on his channel is the making of a handmade lighthouse that focuses more on metallurgy works. The combination of RGB lights with this miniature lighthouse structure shows his expertise in this field of craftsmanship. Making of the lighthouse also starts with freehand sketching but later on, he shows his welding technique that helps in joining all the panes of the lighthouse structure.
After the basic structure is made, he showcases his expertise in polishing the bare metal sheets. This way, he gives this lighthouse a completely new look. The last work left is fiving this structure is a touch of his artwork.
His artistic expertise is also shown in this part as he mainly converts empty metallic plates into a true treat for the eyes using spray paint techniques. At the end goes his signature on this true masterpiece of a decoration item, and the creation is complete.
Other artists who know the work in this field and want inspiration from this design can greatly benefit from the video. While the main videos show different making processes, the shorter videos provide a glimpse of different projects on the channel.
The consistent thing about Arcanis is that every final result of a project from Arcanis shows 3 things mainly: exceptional quality, the aesthetic element in every project, and his creativity. So, every project is a piece of art and a treat to the eyes, whether you watch it live at exhibitions, by purchasing the products, or by watching them online.
What to expect from Arcanis Design in the future?
As mentioned above, this journey of Arcanis has just begun, and there are still many heights he has to achieve. So, there is a bright future ahead for this Master of Art and metallurgy. Comparing the content on the YouTube channel and the options on the website, there is currently almost nothing on the channel.
So, he may upload videos about several of his artworks in the coming time. The Hermes boat is not the only one he makes as there are other options, including Rolex one, LV one, and a Black Ninu one available. So, stay tuned as a lot more will come out in the coming days.
It is worth mentioning that this journey of art from Arcanis is not only restricted to the website or social media platforms. There is a lot of other content from him on different social media platforms, including TikTok, Facebook, and Instagram. Arcanis currently shows his art at exhibitions and works with different brands to sign deals.
There might be more exhibitions of his masterful work worldwide in the coming time. Not only this but this concept "Le Bateau" may hit the clothing market, setting the base for some limited edition clothing range from some of the top designer brands worldwide.
This switch that Arcanis has from the sculpture world to the video world opens several doors to success. Currently, the metaverse is something that everyone talks about with brands investing in things like NFTs. It is not far that Arcanis may introduce his NFT art collection, with the concept "Le Bateau" being the main idea behind that collection.
It marks the freedom and fame that many people still dream of. Still, Arcanis is living this through his artistic idea of The Boat, and no one can tell how quickly his art became an icon of fashion by entering the designer marketplace and the metaverse.
With just over 500 subscribers in a time span of over 6 months, this channel is still in its early stages, and there will surely be a lot of content coming up your way. While the main content will be his artwork and sculpturing, there could be more updates about Arcanis and his "Le Bateau" concept emerging in the fashion world.