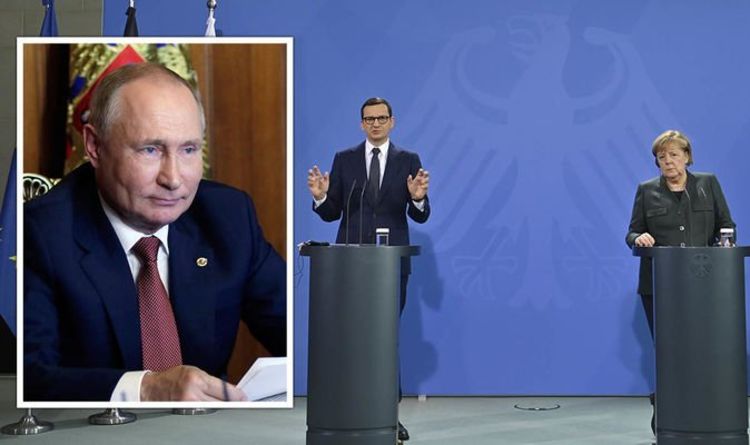 The latest Covid data shows that the bloc's easternmost states were the first to receive the recent wave. At the same time, leaders have briefed against the Russian President, identifying him as a common denominator in other threats facing the EU. They have placed him at the centre of the blossoming migrant crises in Belarus and Poland, and touched on his disproportionate influence over European gas lines.
Why the EU should be worried about Russia
EU figureheads have recently renewed claims that Mr Putin is conducting thinly veiled attempts to destabilise the bloc.
Outgoing German Chancellor Angela Merkel united with her Polish counterpart, Mateusz Morawiecki, yesterday to deliver an urgent message.
Together, they pinpointed frontiers where Russia has chosen to direct its influence.
READ MORE: Patel uninvited from migrant talk visit
Energy
One of several crises triggered by the pandemic is an ongoing global gas shortage that has hit continental Europe particularly hard.
Russia acts as prime supplier for several EU states via state-owned Gazprom, which has pipeline access to and through most members.
That has left Europe in a vulnerable position with leaders keen to prevent Russia from weaponising gas arteries.
The upcoming Nord Stream 2 – hotly opposed by the UK and US – threatens to expand Mr Putin's influence by creating a new line stretching into the EU, via the Baltic Sea.
The migrant crisis
Vulnerable migrants have also become political weapons in 2021, EU premiers insist, highlighting Poland's ongoing border troubles.
The EU has accused Belarusian Prime Minister Alexandr Lukashenko of funnelling migrants over the two nations' shared border to pile pressure on the bloc.
They claimed he has lured migrants into the area in retaliation to sanctions, with assistance from Mr Putin.
During her meeting with Mr Morawiecki, Ms Merkel said politicians are "also dealing with a connection to Russia here", touching on Mr Lukashenko and Mr Putin's "very close relationship".
DON'T MISS
Ukraine
Russia has gradually made inroads further west over the last few years after Mr Putin annexed the Crimea – once administrated by Ukraine – in 2014.
In recent weeks, officials have noted a growing Russian troop presence on the country's share of the border with Ukraine, prompting fresh fears of an impending conflict.
Ms Merkel said she had reached out to Mr Putin and voiced her disappointment at the lack of progress as he rejected her attempts.
She said neither he nor his foreign minister agreed to hold another meeting before she leaves office.
NATO
That growing pressure at the border has spread beyond the EU, with countries calling for NATO involvement.
On Thursday, Polish President Andrzej Duda met with NATO Secretary-General Jens Stoltenberg, requesting the organisation respond to Russia by enhancing its presence.
While fears have primarily centred on Ukraine, politicians have long suspected he aims to sew chaos by breaking up NATO.
Mr Morawiecki renewed those claims this week as Ukrainian Prime Minister Denys Shmyhal echoed his government's calls for help.