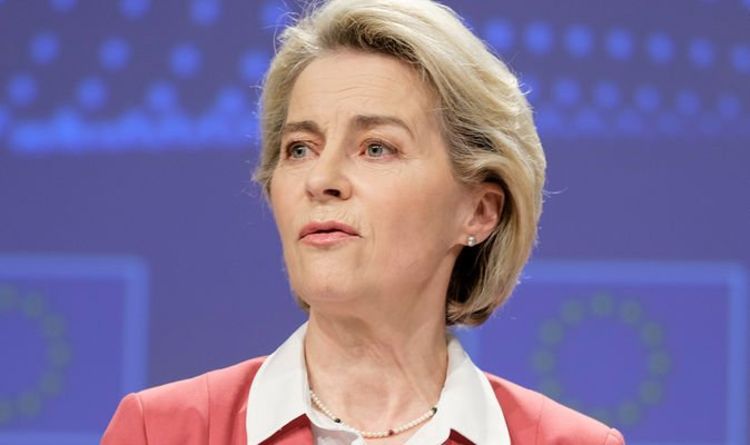 Ursula von der Leyen suggested this week the Commission will look into the potential introduction of mandatory COVID-19 vaccinations across the European Union. The suggestion comes as the EU experiences a rise in fresh infections, with Austria and Germany introducing tough restrictions on the unvaccinated to contain the spread. But Conservative MP Henry Smith warned such a policy would leave several member states crippled under the economic pressure of the mandate.
Angela Merkel also hinted at the potential introduction of mandatory vaccines in Germany shortly before she stepped down after 16 years in power.
President von der Leyen said on Wednesday that the challenge posed by the Omicron variant of the coronavirus was a "race against time", urging all involved to "prepare for the worst".
She added: "You have read about the multiple mutations and what that might be, and we know from our experience with the Delta data variant that it is a race against time."
Austria last month introduced a mandatory vaccine for anyone who has yet to receive the whole dose.
READ MORE: French politicians spreading fake news about UK fishing – bitter claims fact-checked
Mr Kyriakos said: "It's the price to pay for health."
Dr Jenny Harries, head of the UK Health Security Agency (UKHSA), said there is a current period "of great uncertainty" in understanding the new Omicron variant of coronavirus.
She told BBC Breakfast the booster dose of vaccine will "we hope, to some extent, counter the potential drop in vaccine effectiveness we might find with this variant".
Asked whether the UK will see a return to work from home guidance, she said: "The whole point about the booster programme and the introduction of mandatory face mask-wearing in enclosed public spaces is exactly to try and avoid that because we've made huge progress, we have great defences and, in the background, the dominant strain in the UK at the moment is very definitely Delta.
"So these vaccines will help that, it will keep serious infection, serious disease, and hospitalisations at bay, but we do need this time to try and understand the new variant, and we would much prefer that we have that precautionary approach and then take appropriate actions."