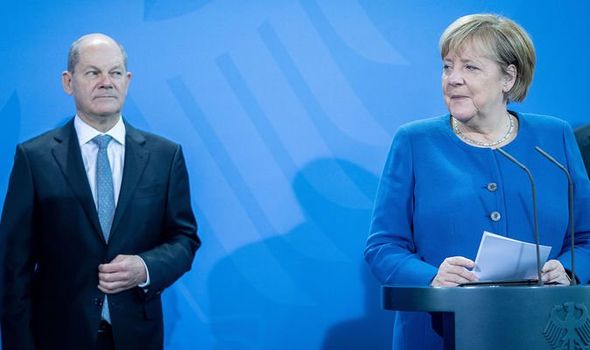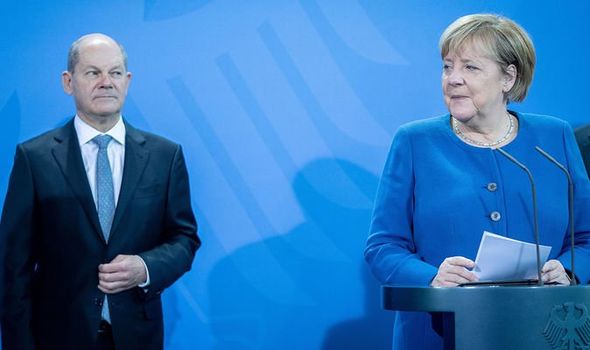 Germany's new coalition government is to be announced this afternoon (Image: Getty)
Olaf Scholz, 63, is set to succeed Angela Merkel as Chancellor of Germany as the country's new coalition government is to be announced this afternoon. Though the Social Democrat will be in charge, the Green and the Liberal Party will play key roles in governing Germany, too. Months after a federal election on September 26 where no one party gained a big enough share of the votes to govern alone, it is expected the German Parliament will approve Olaf Scholz as Chancellor the week of December 6.
Mr Scholz's centre-left Social Democrats (SPD) narrowly won the federal election by beating Angela Merkel's Christian Democratic Union (CDU). The party is now about to form a three-way ruling coalition with the climate-friendly Greens and the business-focused Free Democrats (FDP).
The exit of Ms Merkel after four terms in office marks a huge change in German politics.
Her party, the CDU, and its sister party, the CSU, won't be in the dominant position they have enjoyed for decades. Instead, they will now find themselves in opposition after Armin Laschet, the alliance's candidate for chancellor, fell short of votes.
READ MORE: Germany moves to legalise cannabis in economy-boosting bid after Merkel departure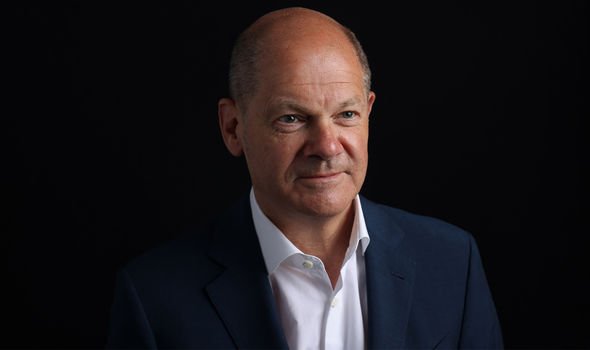 Olaf Scholz will succeed Angela Merkel as Chancellor of Germany (Image: Getty)
What is happening where you live? Find out by adding your postcode or visit InYourArea
Mr Scholz, the current finance minister and vice-chancellor, said last week talks with the Greens and the FDP were going very well.
He claimed: "Everything is going very, very well, very constructively."
While officials said the posts of the cabinet will be decided at the very end of coalition negotiations, the SPD, according to Reuters, is set to nominate at least three women: outgoing Environment Minister Svenja Schulze, outgoing Justice Minister Christine Lambrecht and Klara Geywitz, Mr Scholz's former running mate in the race for party co-leadership.
This would help Mr Scholz's deliver his pledge to have as many women as men in his team.
Europe's largest economy will be governed by a coalition with Mr Scholz as Chancellor (Image: Getty)
Jens Spahn' statement on Germany's coronavirus winter status
The announcement of Germany's new coalition government comes at a turbulent time for Germany and its neighbours as a fourth wave of Covid is hitting Europe hard.
The number of coronavirus infections broke a new record on Wednesday with the seven-day incidence rate surpassing 400 for the first time since the pandemic began.
As per data from the Robert Koch Institute (RKI), there were 404.5 new infections per 100,000 people in the past week across Germany – up from the milestone of 300 recorded on November 15, and of 200 the week before that.
On Monday, Ms Merkel called for tighter restrictions. She said: "We are in a highly dramatic situation.
"What is in place now is not sufficient."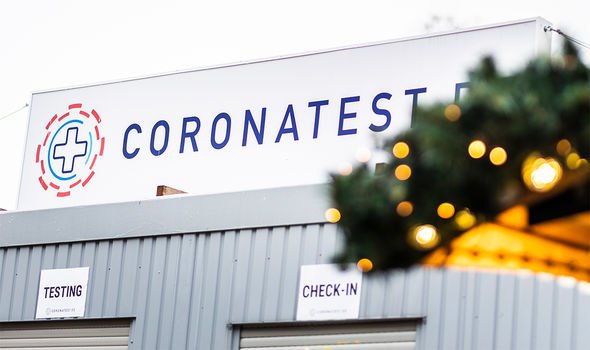 A fourth wave of COVID-19 is hitting Germany in full force (Image: Getty)
The country's vaccination rate is remarkably low compared to other EU members including Spain, Portugal and France. Roughly 68 percent of the population is fully jabbed.
On Tuesday, Joachim Sauer, Ms Merkel's husband, spoke out on the nation's vaccine hesitancy.
In a rare interview with Italian newspaper la Repubblica while on an academic visit, the quantum chemist claimed: "It is astonishing that a third of the population does not follow scientific findings
"In part, this is due to a certain laziness and complacency of Germans.
"The other group are people who follow a personal conviction, a kind of ideological reaction to what they consider a vaccination dictatorship."
Health Minister Jens Spahn said: "It's quite probable by the end of the winter that pretty much everyone in Germany will have been vaccinated, have recovered or have died."
The "traffic light" coalition, named after the parties' respective colours — red for the SPD, yellow for the FDP and green for the Greens — will be heavily occupied with continuing to fight the coronavirus pandemic
However, there are a number of fronts Mr Scholz has already eyed as priority work – including actions to make the nation bullet-proof to the threats of climate change, digitisation, bureaucracy reduction, tax policy and pensions. He also said he aimed to rise the minimum wage to twelve euros per hour.
The chancellor-in-waiting also expressed his wish for a German society with more respect and less division.