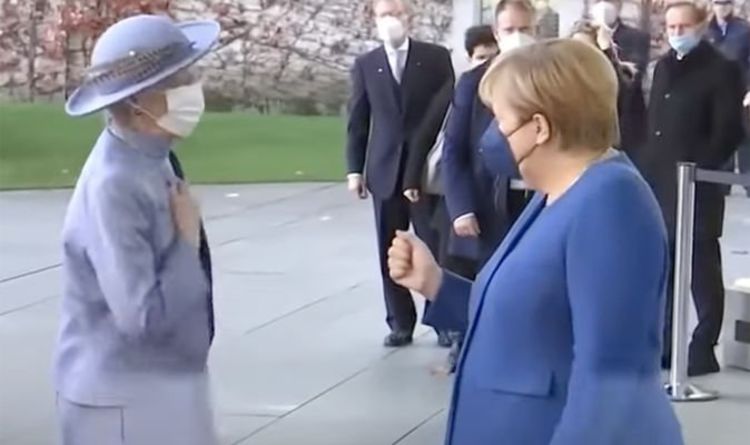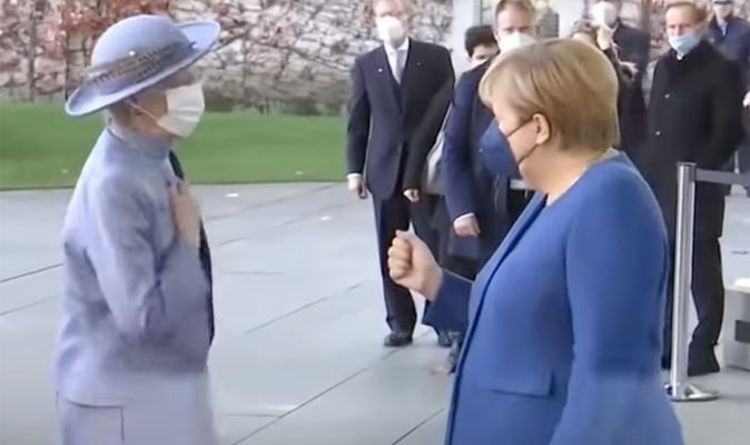 Angela Merkel was publicly snubbed by Queen Margrethe II, the 81-year-old Danish monarch, earlier this week. In an awkward exchange caught in front of the waiting press, the German Chancellor was left hanging after offering a fist bump to the European royal. Video of the encounter shows the Germans rolling out the red carpet for the arrival of the Danish royals.
The 81-year-old queen stepped out of her limousine outside Berlin's Chancellery, along with her son Crown Prince Frederik.
Ms Merkel steps forward to greet her and offer an informal fist bump, which appeared to take Queen Margrethe II by surprise.
The Danish royal paused for a moment before placing her palm on her chest, signalling her refusal to reciprocate the gesture.
The snub prompted an embarrassed-looking Ms Merkel to raise her hand to her chest as if to apologise to the royal.
JUST IN: Vladimir Putin has set sights on four countries for Russia invasion
She then turned to greet Crown Prince Frederik as the trio walked down the red carpet.
Despite the faux pas, the three public figures were shown to be in good spirits as they had their photographs taken.
The Danish royals arrived in Germany for a four-day state visit, where they will take part in remembrance events.
On Thursday, the royals laid a wreath in front of the Neue Wache, a memorial for the victims of war and tyranny.
This comes as coronavirus cases surge in Germany, prompting a top virologist to warn that a further 100,000 people could die in an aggressive fourth wave.
In response, the German state of Saxony put '2G rules' in place, which effectively exclude people who choose not to be vaccinated from many areas of public life.
Berlin, Brandenburg, Baden-Württemberg and Bavaria are all expected to follow suit with similar rules.
Doctors in the intensive care Covid ward at Leipzig University Hospital warn this fourth wave could be the worst yet.