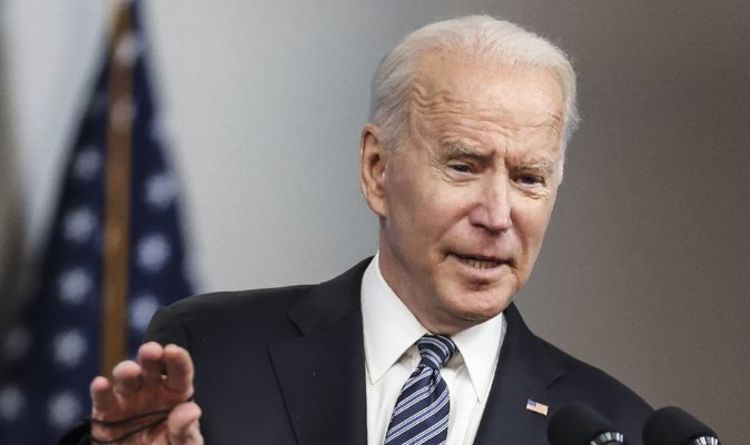 US President Joe Biden has come under fire after telling the Democratic National Convention that the party was going to win the 2022 US midterm elections. Mr Biden made the pledge amid poor personal poll ratings and a slump in support for the Democrats amid rising inflation and slow economic growth. The President's optimism was slammed on Fox News with one panellist predicting the Democrats instead may soon ditch Biden ahead of the election.
Fox News host Kayleigh McEnany said: "Look how underwater he is on a wide range of issues, sometimes by a two to one margin on immigration, the economy, crime and on inflation, which is rising at its fastest pace in nearly 40 years."
She continued: "Those words are so departed from reality when you have CNBC Republican generic ballot ahead by 10 points, Washington ABC poll Republicans ahead by 10 points that's the highest since the poll has recorded since 1981.
"I mean, this is not good for Biden, even these mainstream polling organisations see that."
Fox News contributor Tomi Lahren went on to suggest that Democrat Party candidates could look to distance themselves from Biden ahead of the elections.
She told the programme: "I do believe that there is going to be a massive red wave coming in 2022.
"But I do believe that before then the Democrats are going to distance themselves from Joe Biden.
"They're going to say, You know what? He's not really doing a good job, he's not really coherent.
"They're gonna throw him under the bus, and they're gonna pretend like they are not attached to the very agenda that he is promoting."
Mr Trump has refused to rule out a run for the White House in 2024.
While President Biden has said both publicly and privately that he plans to seek a second term in office.
Meanwhile, the US Vice-President has been ridiculed after appearing to struggle to charge an electric car during a visit to a charging station in Maryland on Monday.
Ms Harris seemed to struggle to understand the new infrastructure and stood holding onto the charger as if standing at the petrol pump, leading Fox News contributor Jason Chaffetz to brand her an "embarrassment."