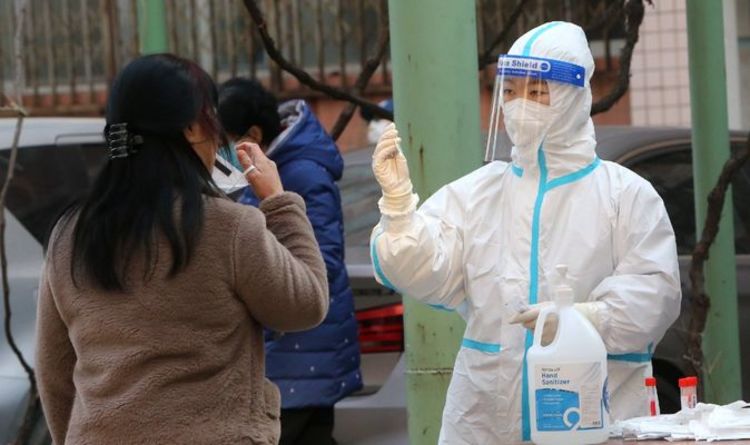 The city, which is home to the famous Terracotta Warriors, is the centre of the largest coronavirus outbreak in China since the original epicentre in Wuhan. The final week of 2021 saw China's case number climb to its highest point since March 2020, when many countries across the world plunged into lockdowns.
This approach is one that Xi'an is seeing once again, as its 13 million inhabitants went into a strict lockdown nearly a fortnight ago.
However, residents in the city say they are now at risk of starving within the confines of their own homes as venturing outside to buy food is now a distant prospect.
Under previous measures, one person from every household would be allowed out of their home to buy groceries every two days.
This was then tightened in response to rising cases.
On Sunday, after over a week of harsh lockdown, the daily case count dropped to 122, and then fell even further on Monday to 90 cases.
Xi'an has recorded around 1,600 cases throughout the pandemic in the city.
City officials have said that those in areas labeled 'low risk' will be permitted to get the essentials they need after mass testing is completed in the city – and if they have a negative result.
These stringent measures sparked an outpouring of appeals on Weibo – China's equivalent to Facebook or Twitter – with people sharing stories about struggling to find anything to eat and calling on others for help.
READ MORE: Bizarre theory Hitler and Eva Braun 'escaped' Nazi Germany to Americas
Another comment, quoted by CNN, read: "Previously I thought those panic-buying folks were stupid. Now I've realised I am the stupid one."
The city was first locked down towards the end of December after it was revealed through mass testing that a case of the Delta variant had sparked the outbreak after a case escaped quarantine.
On Sunday, the Communist Party head of the Shaanxi province, in which Xi'an falls, committed to "further lift our spirits, entrench the awareness of achieving 100 percent prevention, control and isolation, prioritise epidemic prevention and control in urban villages, and achieve the goal of bringing cases back to zero in society as soon as possible".
Many around the world have questioned whether the zero-Covid policy can be maintained for any length of time, when it must contend with the emergence of more transmissible variants.