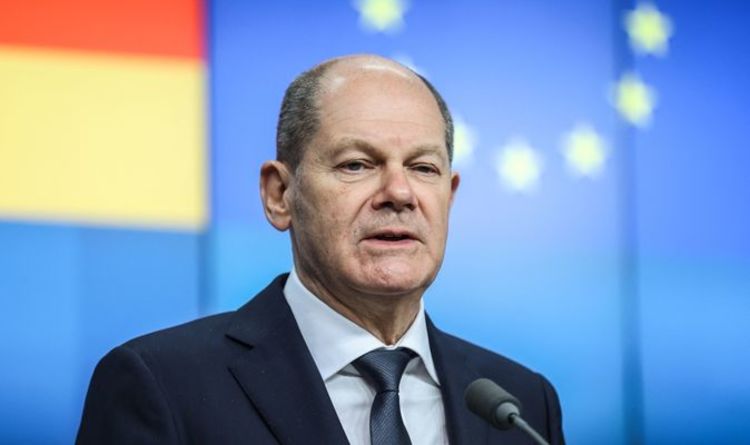 The largest economy in the eurozone has a 45.2 percent chance of dipping into a recession from December to February 2022, the Institute for Macroeconomics and Business Cycle Research (IMK) forecast. Previous analysis by the IMK had the probability down to 40.8 percent in November and 44.1 percent in October.
The latest report by the IMK warns of "increased economic uncertainty".
A recession is triggered by two consecutive quarters of negative economic growth – and forecasts for next year have already been slashed.
It comes as Germany is crippled by supply chain bottlenecks, with car industries hamstrung by a shortage of microchips.
New German Chancellor Olaf Scholz is already battling to keep on top of a fourth wave of coronavirus infections following the emergence of the Omicron variant.
Mr Wollmershaeuser said: "Rising costs associated with delivery bottlenecks play a driving role, as does the delayed adjustment to the increased energy and raw material prices."
Germany, like most of Europe, is struggling to curb a fourth wave of Covid infections.
A further 30,823 new cases were recorded on Tuesday by the Robert Koch Institute for infectious diseases.
Another 473 people died after testing positive for the virus.
The German health minister is exploring ways to expand its vaccination programme, with proposals to remove the requirement for people with a third jab to take a test to enter certain venues.
Some 69.9 percent of the population has had two vaccinations and 23.8 percent have received a booster.
Currently, people who have had two shots or recovered have to show a negative COVID-19 test to enter places with a high risk of infection, such as nightclubs or discos.
But, the plans would exempt people who have had a booster vaccination in order to free up testing capacity.
Additional reporting by Monika Pallenberg