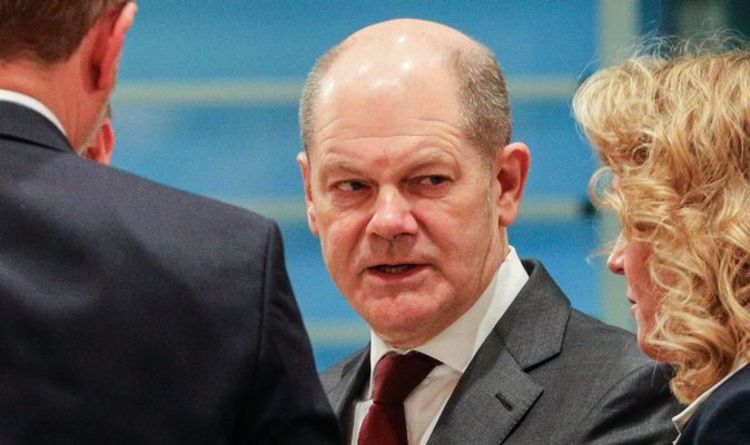 Germany recently recorded the highest inflation rate seen by the country in nearly three decades. The Federal Statistical Office of Germany estimated a 5.3 percent inflation rate for December 2021, according to estimates by the nation's Consumer Price Index. This is +0.5 percent on November 2021.
Meanwhile, the inflation rate for 2021 in Germany is expected to stand at +3.1 percent.
Inflation rates have risen sharply across Europe, partly as a result of economies reopening after the pandemic.
As coronavirus restrictions have been lifted, people are spending more money but many companies are finding it difficult to keep up with the rising demand as many operations scaled back during the pandemic.
The issue has been compounded by rising energy prices, driving up prices even further.
But German Economist Dorothea Siems has argued that the new German government, headed up by Olaf Scholz, is at least partly to blame.
She claimed that Mr Scholz' "daring monetary policy" has created "additional price pressure" by "doing everything to exacerbate the problem".
She primarily cited the minimum wage increase as a key trigger of inflation, which she said "threatens to set in motion a wage-price spiral".
She said: "Regardless of the high risk of inflation, the traffic light coalition creates additional price pressure.
"Whether nuclear phase-out, minimum wage or Europe's debt rules: With their agenda, the governing parties are doing everything to exacerbate the problem.
READ MORE: German inflation soaring at faster rate than Brexit Britain
"In particular, the increase of the minimum wage to twelve euros this year will drive inflation.
"This threatens to set in motion a wage-price spiral."
She also hit out at the government for its move to phase out nuclear energy, which she called "absurd".
Writing in German outlet Welt, she said: "In other places too, the federal government simply ignores the price-driving effect of its policy.
"The fact that Germany is not only phasing out nuclear energy, but also wants to get all other EU countries to do so, is absurd in view of the exorbitantly increased electricity costs.
"Likewise, the debate initiated by Agriculture Minister Cem Özdemir on alleged junk prices for food is evidence of ignorance of the consequences of sharply rising cost of living.
"In addition, the traffic light coalition is apparently ready to loosen Europe's debt rules permanently.
"The FDP, Greens and SPD will have to explain to the increasingly concerned Germans how the purchasing power of the common currency is to be preserved with this."
Additional reporting by Monika Pallenberg.