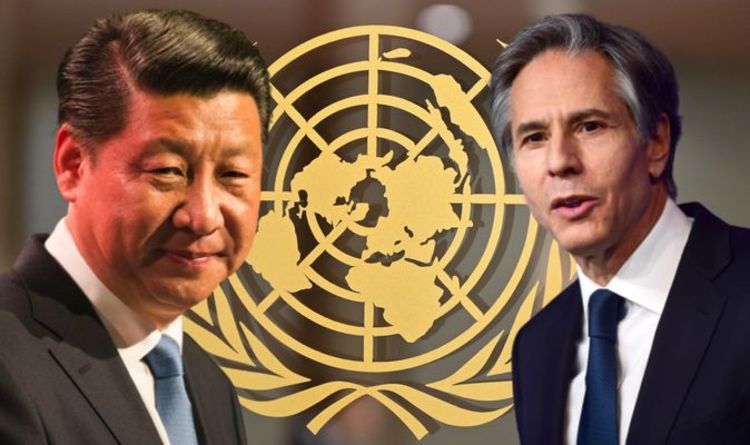 Zhao Lijian said: "If the US continues to play the Taiwan card, it will surely bring game-changing and huge risks to China-US relations." Speaking from the Taiwan Affairs Office in Beijing, spokesman Ma Xiaoguang said "Taiwan has no right to join the United Nations."
Explaining his reasoning he said: "The United Nations is an international governmental organisation composed of sovereign states… Taiwan is a part of China."
The open and frank statement came following US Secretary Anthony Blinken saying that Taiwan needs a "Robust, meaningful participation throughout the UN system."
The US may have a tough challenge ahead in facilitating Taiwan's participation in the United Nations.
The caveat to the plan is that China, along with Russia, France, the United Kingdom and the US hold a permanent seat on the UN Security Council, and a single veto by China would bring the motion to a grinding halt.
Trying to justify Taiwan's place in the organisation, Mr Blinken said: "Taiwan has become a democratic success story, Its model supports transparency, respect for human rights, and the rule of law – values that align with those of the United Nations."
The US has yet to officially recognise Taiwan as an independent nation, along with over 180 other UN nations who still see Taiwan as part of the 'One China Policy'.
Foreign Minister Joseph Wu, speaking from Taipei feels that China is acting against Taiwan due to pressure at home.
He claims that China is "diverting domestic attention" away from an economic slowdown and power shortages.
Some have also suggested that pressure is on Chinese President Xi Jinping as he faces rising challenges from senior CCP members.
Taiwan has vowed to defend itself should China invade, but wary of war, Mr Wu warned: "a conflict would be a disaster – not only for Taiwan but also for China and the rest of the world."