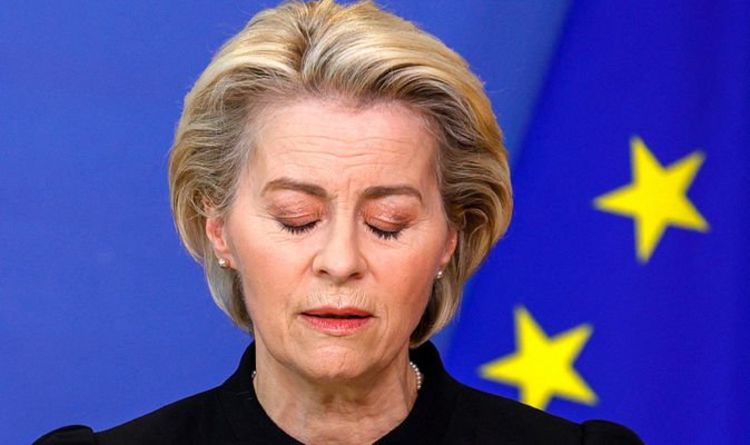 The absence of the European Union at the negotiating table at talks about key security issues in Geneva on Monday, joined by the United States and Russia, puts in doubt the bloc's position "on the world stage".
About 3,000 Russian troops started military drills close to Ukraine on Tuesday. It was the latest of a series of provocations from The Kremlin, all of which led the Biden administration to get involved with a clear stance in the conflict.
The dispute took strength in October after a brief build-up earlier in April.
Last month, US President Joe Biden warned Russian President Vladimir Putin in two virtual summits he was ready to apply unprecedented sanctions in the form of severe economic costs in case of new Russian aggression.
On Tuesday, Moscow was urged to pull back an estimated 100,000 troops from near the border.
READ MORE: EU's last shot at survival: How Gibraltar Brexit deal could hold key to 'reverse' crisis
During the talks, as has become common for Mr Putin's government, Moscow insisted it wants NATO to commit to limiting its presence in Ukraine, which is not part of the security alliance.
It views Kiev's tight relations with NATO members as a threat and does not want the country to join the alliance.
Russian Deputy Foreign Minister Sergei Ryabkov said: "For us, it's absolutely mandatory to make sure that Ukraine never, never, ever becomes a member of NATO."
But US Deputy Secretary of State Wendy Sherman insisted the US' view remained untouched: "We were firm… in pushing back on security proposals that are simply non-starters to the United States."
Mr Tombs discussed what will happen if Russia invades Ukraine.
He asked: "Will that pull EU states together, or — as seems equally likely — drive them apart?
"Somehow I cannot see Ursula von der Leyen issuing a clarion call to resist the aggressor.
"It's Nato or nothing and weakening Nato is Russia's main object."
In addition to calling out the EU's lack of say in the Russia-Ukraine conflict, Mr Tombs criticised its armed forces; the fact that many member states have become reliant on Russia for energy, and the struggles between some large EU nations and Brussels.
Describing the bloc as politically, economically and military vulnerable, the historian concluded: "Some people used to fear (some still do) that the EU was a superpower in the making which Britain could not afford to stay out of.
"The reality is that for the foreseeable future it will remain largely impotent."