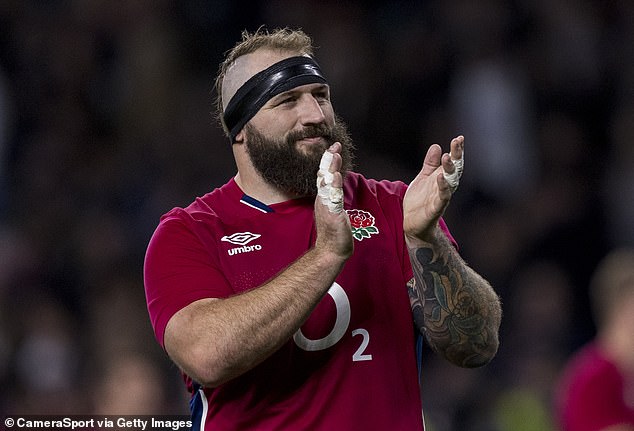 The England autumn campaign was on a knife-edge again on Tuesday night as players and staff awaited the results of emergency Covid tests after Joe Marler was ruled out of the game against Australia on Saturday.
The veteran Harlequins prop was forced to go into isolation for 10 days at the squad's base in Surrey when it was confirmed he had caught the virus.
Marler's sample was found to be positive when he took a lateral flow test on Monday and a follow-up PCR test brought the same grim verdict.
England prop Joe Marler has tested positive for Covid-19 ahead of the clash with Australia
In response to this latest setback, all members of the England set-up were re-tested. Those PCR results were being awaited on Tuesday night. It was another disruptive development after the sudden Covid chaos at the end of last week — when a staff member tested positive and was forced to isolate before Owen Farrell found himself in the same unwelcome predicament.
The captain's sample was sent back to the laboratory to be reassessed and was eventually deemed to have been a false positive, a conclusion ratified by NHS Test and Trace. But Farrell missed the game against Tonga while the issue was being resolved, before being cleared to rejoin the rest of the squad and return to training.
England have now had three Covid cases this month – the staff member, Farrell and Marler. The squad are being stalked by the pandemic, in contrast to the other nations taking part in Tests all over Europe this month. Wales centre Willis Halaholo tested positive but there have been no other confirmed cases in any other competing squad.
Uncapped Sale Sharks rookie Bevan Rodd is expected to be added to the squad in his place
Marler's positive test means head coach Eddie Jones will need more front-row cover
Reacting to the loss of Marler, flanker Sam Underhill said: 'Joe is a big character and we'll miss him. I hope he's all right. It's part of the game now and part of life – as a squad we have to be adaptable. It's better to address it than try to ignore it and pretend it's not there. That way we can deal with it.
'We had a good training session after a little bit of disruption so we've shown we can handle it so far. Obviously lads are being careful and there's a good level of protocol around the place to make sure we're not losing players unnecessarily.
'Whenever there is a positive or a threat, everything does get a bit tighter. We're confident we can crack on and that's what we've got to do.'
For this campaign, England players have been sharing hotel rooms again and restrictions within the 'bubble' have eased. However, all protocols are sure to come under review as a result of events in recent days.
Last Sunday, the RFU announced that no players would be released back to their clubs this week in an attempt to reinforce measures, but the virus keeps finding a way in.
For Jones, the immediate concern is deciding on whether he needs to call up another prop as cover for the unavailable Marler – Ellis Genge is the only other loosehead included in the squad.
While Saracens' experienced Lion Mako Vunipola would be the obvious choice, Sportsmail understands uncapped Sale rookie Bevan Rodd could be added instead.
Newcastle's Trevor Davison has been operating at tighthead but may be asked to switch to the other side of the front row to understudy Genge.
It comes after Owen Farrell isolated last week but the captain had returned a false positive
Meanwhile, the news about Marler has once again raised the issue of players' vaccination status. It is understood that some members of the England squad have not been double-jabbed.
Underhill is not in that category and he addressed the thorny subject on Tuesday, saying: 'It's an on-going debate which gets into the realms of bodily autonomy and respecting individual decisions.
'There are obviously consequences in terms of isolation lengths, contact tracing and those things. I'm double-vaccinated, so I can speak for myself, not anyone else. It's obviously having a big impact on the game, isn't it? My sister is a doctor. My dad got Covid and was hospitalised with it. I don't fancy getting it or giving it to any family members.
'It (double jab) seems to have a very negligible effect on my well-being. In my opinion it's a good thing. It's not for me to dictate what people do, but I think it's a very positive thing and a lot of very intelligent people work very hard to get it out there so we can keep living the lives we live.
'I think it's a benefit to have it, but I can't speak for everyone.'