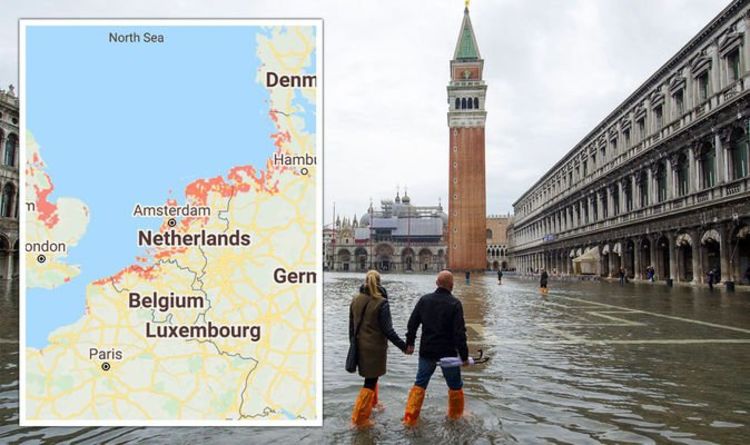 Unlike other disasters, the climate crisis is a creeping threat, the effects of which become apparent over decades. While not apparent now, in the years to come, some countries will see chunks of their coastline swallowed by the encroaching seas. Express.co.uk has identified five European countries most at risk of rising sea levels by 2050, using data from scientific nonprofit Climate Central.
The UK
The UK, specifically England, has no shortage of low lying land threatened by climate change.
London, which is a flat city in a flat country, lies on the banks of the Thames.
By 2050, Climate Central mapping estimates much of the city on the river's immediate banks will end up under the annual flood level, notably Greenwich, Canary Wharf, Fulham and Barking and Dagenham.
Other cities, including Cardiff, Newport, Liverpool, Hull and other coastal regions will have to deal with the threat.
READ MORE: Eight UK cities rising sea water could swallow by 2050
Germany
Germany has a relatively short stretch of coastline compared to its neighbours.
The country is most at risk where it borders the Netherlands.
Maps show all of the country's northwestern coastline is at risk by 2050 as sea levels move in.
Bremen and Hamburg are among the cities likely to experience the immediate fallout.
DON'T MISS
Italy
According to Climate Central's mapping, Italy is mostly safe from rising sea levels.
But portions of its most mountainous region – the north – are at significant risk.
Of the country's many iconic cities, Venice is the one that most risks being claimed by the ocean.
The city sits in a lagoon and is already subject to regular tidal flooding.
By 2050, the data suggests that annual flooding could consume it entirely, and every city sharing its coastline from Ravenna to Monfalcone.
France
Like neighbouring Italy, few French regions will experience an immediate impact from climate change flooding, despite its extensive coastline.
Sea levels will only sink smaller sections of the French coast.
But among those sections under threat is one of Europe's most significant historical sites.
Dunkirk beach, the site of World War Two's Operation Dynamo, would end up being reclaimed by the ocean.
And Calais, along the coast to Dunkirk's west, is the only French city almost entirely under the annual flood level.