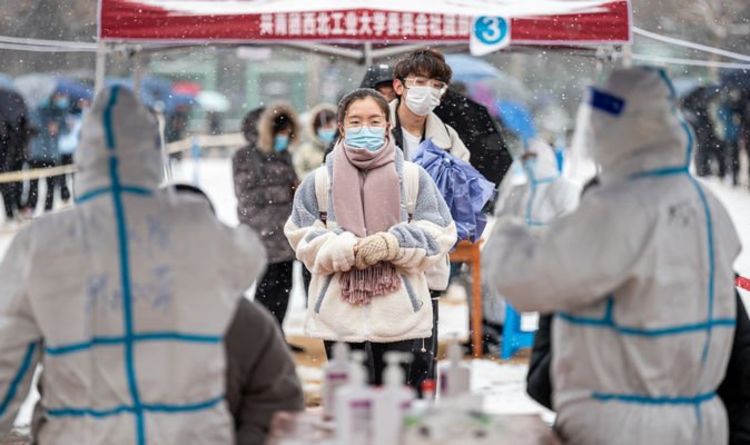 Journalist Priyanka Sharma discussed the new government-imposed lockdown in Xi'an China as a new wave of the Coronavirus surges across the country.
There has been no distinction made by Chinese government officials as to whether the new cases are caused by variants of the virus such as Omicron or Delta.
Ms Sharma explained how the Chinese government sacked dozens of officials and blamed them for the current outbreak, stating that they did not do anything to prevent the latest surge in cases in the country.
China is the first country where the Coronavirus was detected in 2019. As the country is now back on high alert due to a high number of new infections, fears of the Olympics not going ahead in the countries city of Beijing, in February 2022 are now heightened.
China currently has been following a zero Coronavirus case policy to try and stamp out any threat the virus may cause on the citizens of China, the country has implemented tight border restrictions and long quarantine periods to fight transmissions, but all of that seems to not be working and the current spike in new cases proves this.
Ms Sharma said: "A new wave of Covid cases is sweeping across China as 13 million residents of Xi'an are now under strict lockdown.
"New hot spots are emerging every day, more than 70 new cases have been detected in Eastern China.
"At the end of 2020, President Xi Jinping had declared China has victory over the virus, but a year later China's pandemic playbook is failing our next report tells you why.
JUST IN:'Ooops!' ITV newsreader accidentally announces Pope's death on Christmas Day
Ms Sharma added: "This is Xi'an, 13 million people are under lockdown here, the reason is the Wuhan virus, more than 200 cases have been found in this city.
"Chinese authorities have turned it into a war zone, a massive force of health workers recently marched into the city.
"There is chaos inside departmental stores, the lockdown lead to panic buying, people were seen beating each other up for food supplies.
"Beijing is responding with what it has mastered of late, a crackdown.

READ MORE:Truss poised to scrap EU deal and keep £15bn to fund UK research: 'Won't stand in our way'
Ms Sharma added: "26 officials have been fired in Xi'an, why? apparently, they did not do a good job in preventing the outbreak, perhaps they did not but the problem won't end with their dismissal."
When asked for his comment on the latest lockdown in China, Zhang Boli, who helped tackle the first wave of the pandemic in 2020 said: "So far the turning point for the outbreak is yet to come, and stringent curbs are necessary."
"The outbreak and hidden transmission routes in Xian were due to negligence at the grassroots level.
"The superspreader of this outbreak in Xian, or patient number two, remained asymptomatic for a while, and their wide travel radius caused many infections."
DON'T MISS:'The NHS is on its knees!' Dr Sarah lashes out at Boris for claiming to 'not know enough'
The new regulations imposed on Chinese citizens in Xi'an have closed all non-essential businesses except for supermarkets and local convenience stores.
The new rules have been introduced a day after the city began the arduous task of testing all of its 13 million residents.
Some medical practices have also been told to close and the government have also asked all non-essential workers to work from home/
Citizens of Xi'an have been told to stop attending large scale meetings and activities like outdoor sport and access to recreational parks have all been denied.