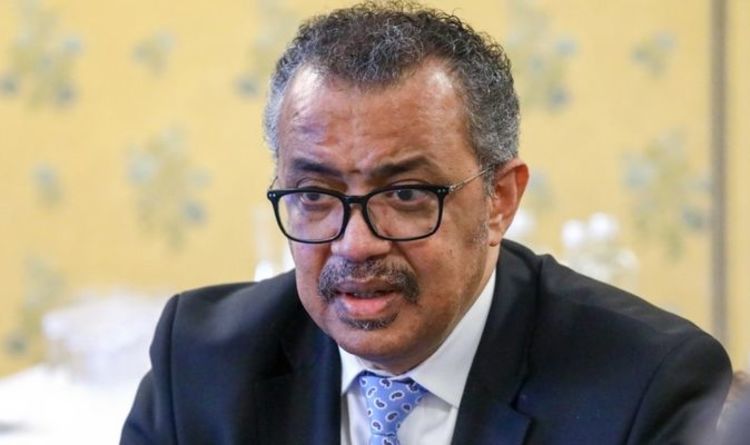 The World Health Organisation (WHO) issued a plea for people to cancel some of their festive celebrations to protect public health around the world. WHO director-general Dr Tedros Adhanom Ghebreyesus, 56, warned "difficult decisions" must be made.
He added: "An event cancelled is better than a life cancelled."
Dr Tedros', who served as the Ethiopian Health Minister from 2005 to 2012 and Addis Ababa's Foreign Affairs Minister from 2012 to 2016, went on to claim the evidence now shows Omicron is spreading faster than the Delta variant.
In an appearance at a briefing on Monday, he said: "All of us sick of this pandemic.
"All of us want to spend time with friends and family.
"All of us want to get back to normal.
JUST IN: President Joe Biden comes into 'close contact' with Covid-carrying White House staffer
"The fastest way to do this is for all of us, leaders and individuals, to make the difficult decisions that must be made to protect ourselves and others.
"In some cases, that will mean cancelling or delaying events… It's better to cancel now and celebrate later than to celebrate now and grieve later."
The BBC also reports Dr Tedros as saying the pandemic could come to an end in 2022 provided 70 percent of each country's population gets inoculated by the middle of next year.
But his comments come as many countries on the continent, including France and Germany, have started adding COVID-19 restrictions.
The Netherlands, which puts itself at a "serious" coronavirus risk level, has even imposed a festive lockdown, which will include a clampdown on non-essential shops, bars, gyms, hairdressers and other public venues until January 14.
READ MORE: Brexit POLL: Should Liz Truss use new role to pressure EU and trigger Article 16?
Dutch Prime Minister Mark Rutte, 54, said the measures were "unavoidable" and warned a failure to act would likely lead to "an unmanageable situation in hospitals".
Across the North Sea, British Prime Minister Boris Johnson, 57, has said the Government "reserves the possibility" of reimposing restrictions in England.
The UK recorded 91,743 COVID-19 cases yesterday, including 8,044 cases of the new Omicron variant.
The Omicron variant, which was first detected in South Africa back in November, has been classed as a "variant of concern" by the WHO.
However, according to recent UK Government data, Brits have rallied behind Mr Johnson's call to 'Get Boosted Now'.
DON'T MISS:
Russia launches 'first stage of invasion' with propaganda strikes [SPOTLIGHT]
Macron's Brexit sidekick can't resist final swipe at Frost [REVEALED]
Europe lockdown latest: The European countries at risk of lockdown [LATEST]
Health Secretary Sajid Javid, 52, said the UK administered over a million jabs on Saturday.
Speaking about the increase in uptake, Mr Javid said: "A total of 5.37million vaccines were delivered in the UK last week.
"That is a 65 percent increase from the previous week."
The Bromsgrove MP added: "If you're eligible for the jab please come forward as soon as possible."
Data collated by the UK Government website indicates 89.5 percent of Brits aged 12 or over have received their first dose, 81.8 percent have had two jabs and 50.4 percent have now been inoculated with a third jab, often referred to as a booster.
In the United States, the White House has said 46th President Joe Biden, 79, was not planning on "locking the country down".
However, health experts have warned Omicron is now the dominant strain of COVID-19 in America and the US Centers for Disease Control and Prevented and the State Department have advised their compatriots against travelling to eight places, including Spain.