Spain: British expat questions enforcement of Covid passes
Germany said it was adding Spain to its list of COVID-19 risk areas. It followed the US urging American nationals and residents to avoid trips there. As two of the world's largest economies are making it harder for unvaccinated travellers to visit the Iberian nation, questions have arisen over the UK's stance.
The tightened approach towards travel to Spain comes at a tough time. On Thursday, a new daily infection record with nearly 73,000 new registered cases was set.
It was Spain's third consecutive record high in three days.
Further, the national 14-day contagion rate jumped to its highest level this year – 911 new cases per 100,000 residents.
The days ahead of Christmas Eve, residents could be seen seeking to determine whether they are contagious, which resulted in long queues and a shortage of tests.
Since Friday, mask-wearing outdoors, with few exceptions, is mandatory again. In Catalonia, a 1am to 6am curfew has been imposed.
READ MORE: British expats will need more cash for their 2022 Spain & Portugal move – visa change
Amid a grim Covid scenario in Spain, travel from the UK could be affected (Image: Getty)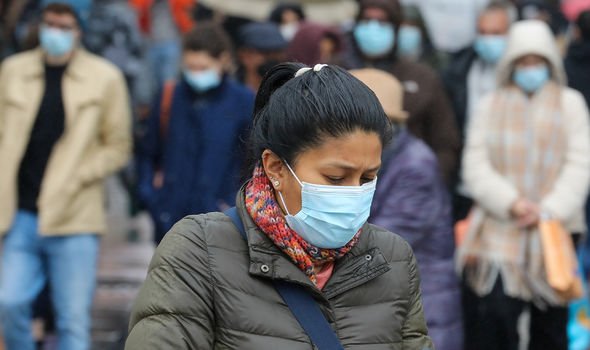 Masks on: Face coverings are mandatory outdoors again in Spain (Image: Getty)
On Monday, the US Centres for Disease Control and Prevention (CDC) moved Spain into its highest travel risk level, the Level 4 category.
The health body advised citizens to "avoid tavel" to Spain. However, "if you must travel to Spain, make sure you are fully vaccinated before travel", it stated.
The CDC added: "Because of the current situation in Spain, even fully vaccinated travellers may be at risk for getting and spreading COVID-19 variants."
In early November, the US lifted Covid travel restrictions on fully-vaccinated passengers from Spain who agreed to getting tested before travel.
Even though this still applies, further restrictions cannot be ruled out as the Biden administration seeks to contain the spread of the Omicron Covid variant.
Travel to Spain, a big favourite for British holidaymakers, could be restricted (Image: Daily Express)
Travel ban: Epidemiologist says 'closing borders does not work'
While the move signals a more relaxed approach to travel than that taken by other nations, suggesting no further restrictions will be imposed to those arriving in the UK or those aiming to leave, Covid case numbers and hospitalisations are significantly higher now than 10 days ago, which could lead to changes.
On Friday morning, according to Government figures, 122,186 cases of coronavirus had been recorded — another record number of daily cases — and 137 deaths within 28 days of testing positive had been registered.
Meanwhile, the NHS warned of a big rise in the number of COVID-19 hospitalisations after 1,171 people across the UK had to be admitted.
Matthew Taylor, the chief executive of the NHS Confederation, said: "Daily hospital admissions with Covid have gone up by over 40 percent in the last week in England [from 815 to 1,098] and this is really worrying for health leaders whose teams are working flat out in the context of rising staff absences and wider pressures."
While ministers said they were not planning to announce any post-Christmas coronavirus restrictions this week, Health Secretary Sajid Javid said No10 would "keep the situation under review", and sources told The Guardian leaders are expected to assess new modelling from the University of Warwick.
It was given to the Scientific Advisory Group for Emergencies (Sage) in documents published on Thursday and has reportedly raised concerns among Government officials – hinting the UK might return to step 2 Covid guidelines from December 28 or January 1.