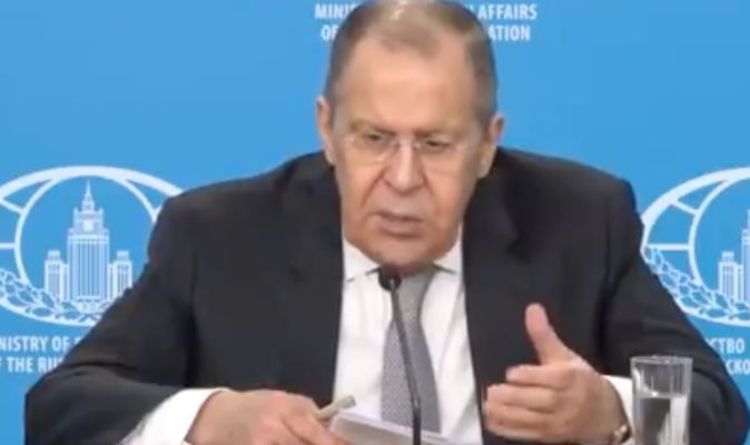 Sergei Lavrov hit back at NATO after Russia were urged to remove their troops on the Ukrainian border, deeming the presence of Western troops on Russian's frontier as "inadmissible". Over 100,000 Russian troops are stationed there as President Vladimir Putin is pondering whether he should launch an attack that would involve projectile strikes, cyberattacks, and bombing raids. To deflect criticism away from Russia, the Foreign Secretary pointed at the unacceptable fact that the US, Canada, and Britain's tanks are permanently parked in Northern Europe and in the Baltic nations.
In a bitter rant, he blasted NATO: "It's inadmissible when they [NATO] require us to send our troops, stationed in our territory, back to the barracks.
"The Americans, Canadians, and the English are almost permanently deployed [elsewhere] while they pretend it is a rotation.
"In fact, they are permanently deployed in Baltic states and other North European states.
"They create bases in the Black Sea, they build bases in the Azov Sea, in Ukraine and we cannot be happy with that.
JUST IN: 'Shameful!' Sussex fury as Meghan Markle dragged into engagement ring row
"It's inadmissible!
"We categorically will not accept the appearance of NATO right on our borders.
"Especially so given the current course of the Ukrainian leadership."
Russia possesses an almost unparalleled air and naval power from a global perspective and should they go on a devastating offensive, a mass destruction of Ukraine's military infrastructures is to be expected.
READ MORE: Downing Street apologises to Queen for party before Philip's funeral in bid to save face
Experts suggest that 100,000 Russian troops are not sufficient to invade the whole country as at least double of that figure is needed.
Russia have denied plans to attack Ukraine but the fact that no agreement was struck with Western states suggests that the situation is volatile.
The New York Times revealed that the weather conditions will delay the invasion, which was reportedly due to take place this month, to March.
It said: "Officials say the Russian president's window for an invasion is limited, dictated by temperatures that will freeze the ground, allowing for the easy movement of heavy vehicles and equipment before a spring thaw, which could begin by March."