Russia's approach to Ukraine is 'dangerous' says Nuland
Russia has positioned almost 100,000 troops near the border of the second-largest country in Europe. There are warnings that the risk of a Russian invasion remains high with no sign Moscow will return the troops to barracks.
Tobias Ellwood said: "I am afraid an invasion by Russian forces is inevitable and imminent and we have allowed this to happen.
"We had the opportunity to place sufficient military hardware and personnel in Ukraine to make President Putin think twice about invading but we failed to do so.
"Only President Putin knows what he is going to do next but next week would seem pivotal."
He told MailOnline: "He has negotiated himself into a corner and after Nato refused to bow to his threats seemingly only one option remains."
War in Ukraine is 'days away' (Image: Getty)
MP Tobias Ellwood walking through Westminster on his way to the Houses of Parliament (Image: Getty)
Russia denies it is planning an attack but says it could take unspecified military action unless its demands, which include a promise by the Nato alliance never to admit Ukraine, are met.
US officials have spent weeks trying to make sure Europe would match sanctions planned by Washington, but no clear agreement has been reached on specific measures.
The European Union imposed sanctions on Russia when it annexed Crimea in 2014, but the bloc has been divided over how to deal with the country, which makes up one-third of EU gas imports.
Mr Ellwood's remarks come after a massive cyberattack splashed a warning to "be afraid and expect the worst" across Ukrainian government websites.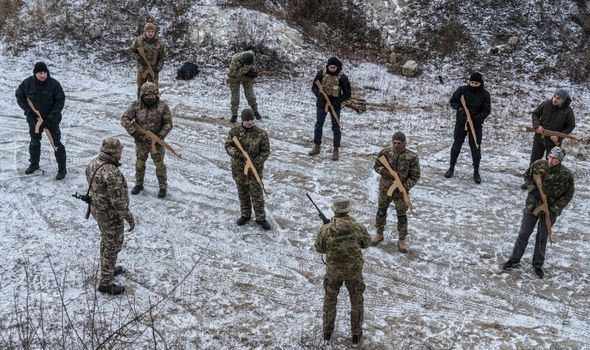 Getty (Image: Members of the Kyiv Territorial Defense Unit are trained in an industrial area on January 15)
More Ukrainians have been moved to join defence groups, which aim to provide military skills (Image: Getty)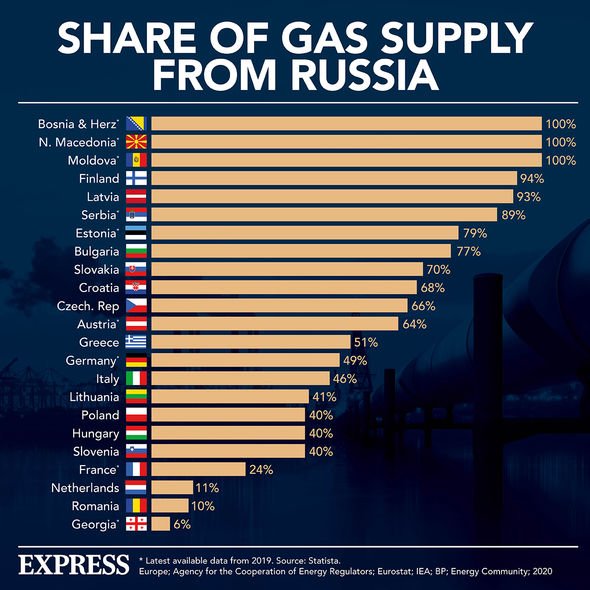 Where Russia's gas goes in Europe (Image: Express)
His chief of staff, Andriy Yermak, said the "life and death" of his country hangs in the balance.
White House press secretary Jen Psaki told reporters of US concerns Russia is preparing for the possibility of a new military assault.
He said: "As part of its plans, Russia is laying the groundwork to have the option of fabricating a pretext for invasion, including through sabotage activities and information operations, by accusing Ukraine of preparing an imminent attack against Russian forces in eastern Ukraine."
A US official said Washington has information indicating that Russia had already positioned a group of operatives to conduct "a false-flag operation" in eastern Ukraine.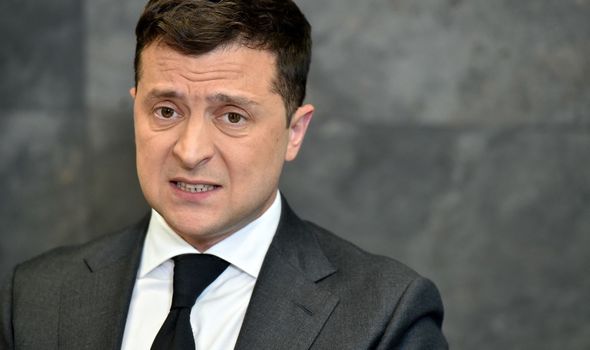 Ukrainian President Volodymyr Zelensky (Image: Getty)
TASS news agency reported Kremlin spokesperson Dmitry Peskov dismissing such reports as based on "unfounded" information.
Russian Foreign Minister Sergei Lavrov said Moscow hoped security talks with the US would resume, but it depended on Washington's response to his government's proposals.
He said: "We categorically will not accept the appearance of Nato right on our borders, especially so given the current course of the Ukrainian leadership."
Asked what Moscow meant by threats to take military-technical action if talks fail, Mr Lavrov said: "Measures to deploy military hardware, that is obvious.
"When we take decisions with military hardware we understand what we mean and what we are preparing for."
Footage released by the RIA news agency shows armoured vehicles and other military hardware loaded onto trains in Russia's far east. Moscow the manoeuvres as an inspection drill to practice long-range deployments.
Rob Lee, a military analyst and fellow at US-based Foreign Policy Research Institute, told Reuters: "This is likely cover for the units being moved towards Ukraine."
The crisis in Ukraine started in 2013 with protests in Kiev against then-Ukrainian President Viktor Yanukovych's decision to reject a deal for greater economic ties with the EU.
A violent crackdown by state security forces drew greater numbers of protesters, forcing Mr Yanukovych to flee the country in February, 2014.
One month later, Russian troops took control of Ukraine's Crimean region before formally annexing the peninsula.
Vladimir Putin justified the annexation by saying there was a need to protect the rights of Russian citizens and Russian speakers in Crimea and southeast Ukraine.
Two months later pro-Russian separatists in the Donetsk and Luhansk regions of eastern Ukraine held a referendum to declare independence from the country.
Since April 2014, violence in eastern Ukraine between Russian-backed separatist forces and the Ukrainian military has killed more than 10,300 people and injured nearly 24,000.