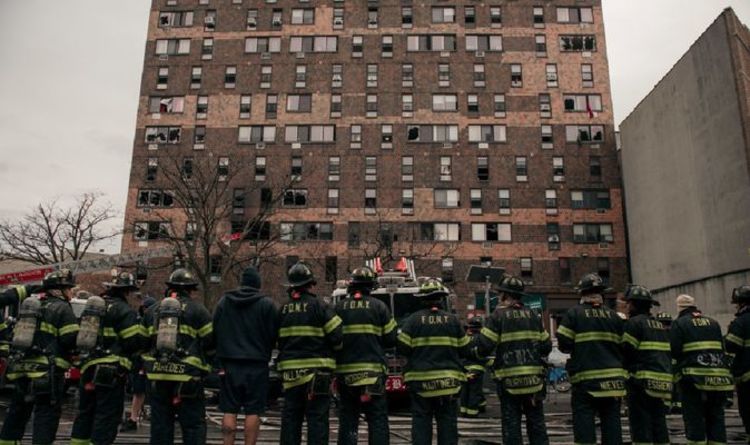 The building was engulfed in flames in the US city today, on Sunday. Along with the 19 who died, a further 32 people were sent to hospital. Several of these people remain in a critical condition, according to Eric Adams, Mayor of New York.
Fire department Commissioner Daniel Nigro said the death toll was the worst seen in New York for 30 years, the BBC reports.
Mr Adams added that it was one of the worst blazes of modern times.
He said: "The numbers are horrific. This is a horrific, painful moment for the city of New York.
"The impact of this fire is going to really bring a level of pain and despair in our city.
"This is going to be one of the worst fires that we have witnessed during modern times."
The fire occurred in an apartment block in the Bronx borough of the city.
It is a 19-storey building known as Twin Parks.
Around 200 members of the Fire Department of New York worked at the scene.
READ MORE: UK Covid latest: 140k new cases as nearly 40,000 hospital staff off
Resident Cristal Diaz, 27, who lives on the 15th floor, told the New York Post she grabbed her cousins, aunt and dog when she realised there was a fire.
She said: "I was drinking coffee in the living room and I started smelling smoke. We started putting water on towels and the bottom of the door.
"Everything was crazy.
"We didn't know what to do. We looked out the windows and saw all the dead bodies they were taking with the blankets."
Photos show the has received heavy damage due to the fire, with windows on multiple floors broken.
The cause of the fire is now under investigation, though is not currently believed to be suspicious.