Kyle Rittenhouse is cleared of all charges in Kenosha shootings
The 18-year-old is believed to be considering legal action in relation to remarks made by Mr Biden last year after violence erupted in Kenosha, Wisconsin following the death of Jacob Blake, shot seven times in the back and side by a police officer who said he was trying to detain him. Mr Rittenhouse, then aged 17, had travelled from his home in Antioch, Illinois, teaming up with others who claimed to want to protect private property from potential damage on August 25.
He subsequently shot two men dead – Anthony Huber, 27 and Joseph Rosenbaum, 36, and injured a third, Gaige Grosskreutz, now 27 – but the jury accepted he had acted in self-defence.
Mr Rittenhouse spoke out during an interview with right-wing Fox News anchor Tucker Carlson, who suggested Mr Biden had linked him with white supremacists in the wake of the violence in Kenosha.
Addressing Mr Biden, the teenager replied: "Mr President, if I can say one thing to you, I would urge you to go back and watch the trial and understand the facts before you make a statement.
"It is an actual malice and defaming my character for him to say something like that."
Kyle Rittenhouse is said to be considering suing US President Joe Biden (Image: GETTY)
Joe Biden's tweet from last year (Image: Twitter)
He further stressed he had a team of "really good lawyers" who are investigating defamation charges.
Mr Biden made no reference to "white supremacists" in remarks made after the verdict was announced.
He said: "While the verdict in Kenosha will leave many Americans feeling angry and concerned, myself included, we must acknowledge that the jury has spoken."
He further stressed he "ran on a promise to bring Americans together" and what "unites us is far greater than what divides us."
JUST IN: China issues threat as US sends warship through Taiwan Strait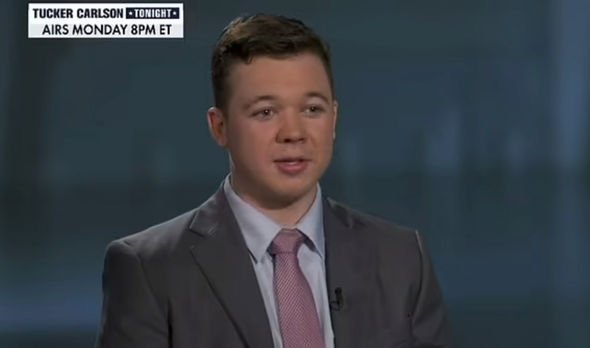 Kyle Rittenhouse speaks to Tucker Carlson (Image: Fox News)
"I know that we're not going to heal our country's wounds overnight, but I remain steadfast in my commitment to do everything in my power to ensure that every American is treated equally, with fairness and dignity, under the law."
Mr Rittenhouse's potential case may rest of comments by Mr Biden in the immediate aftermath of the violence in Kenosha last year, when he tweeted: "There's no other way to put it: the President of the United States refused to disavow white supremacists on the debate stage last night."
However, there is no suggestion Mr Biden was specifically referring to Mr Rittenhouse on that occasion.
During his interview, Mr Rittenhouse told Mr Carlson: "To be honest this case has nothing to do with race, it never had anything to do with race, it had to do with the right to self-defence.
Anthony Huber and Joseph Rosenbaum were both shot dead by Kyle Rittenhouse (Image: NC)
US Republican Congressman Madison Cawthorn (Image: GETTY)
"I am not a racist person. I support BLM, I support peacefully demonstrating, I believe there need to be changes, I believe there is a lot of prosecutorial misconduct, it is amazing to see how much a prosecutor can take advantage of people.
"I thought they came to the right verdict. It was not Kyle Rittenhouse on trial in Wisconsin, it was the right to self-defence on trial."
He also suggested he was aware of threats being made against him.
Asked whether the government would protect him, he added: "I hope so, but we all know how the FBI works."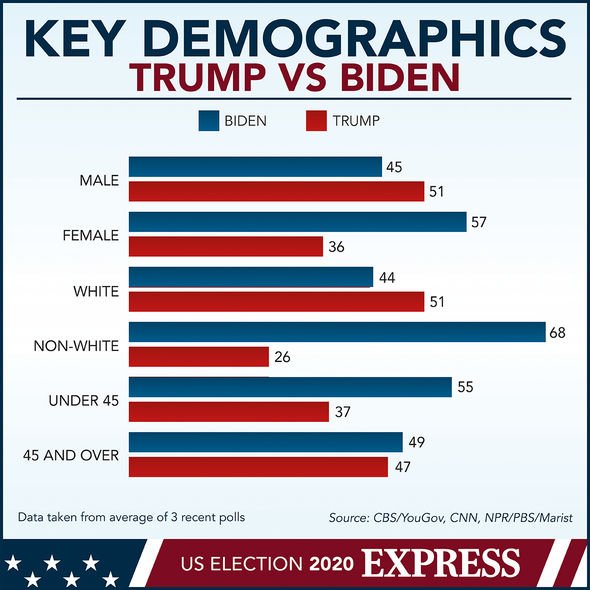 Key demographics in terms of supporters of Joe Biden and Donald Trump last year (Image: Express)
The verdict was greeted with outrage by many on the political left and celebrated by gun-rights supporters.
"It is unconscionable our justice system would allow an armed vigilante … to go free," the Congressional Black Caucus said in a statement.
The thorny issue of race also hung over the case, although Rittenhouse and the men he shot were all white.
Joe Biden beat Donald Trump in last year's Presidential election (Image: GETTY)
Some Black activists said on Friday the US police and courts would have treated the teenager more harshly if he had been Black.
But conservatives saw the verdict as a validation of the US Constitution's Second Amendment, which grants Americans the right to bear arms.
US congressman Madison Cawthorn, a Republican representative from North Carolina, said on Instagram: "Kyle Rittenhouse is not guilty my friends.
"You have a right to defend yourselves. Be armed, be dangerous and be moral."