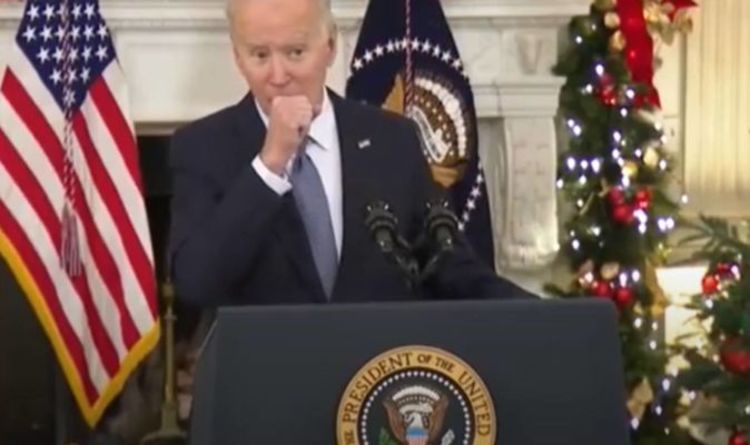 Alarm bells rang after Joe Biden delivered a speech on American job figures with a croaky voice and began coughing with reporters wondering if the elderly Democrat was okay. Fox News' Peter Doocy posed the question to Mr Biden who said he was fine, had daily Covid tests and simply caught a cold off his grandchild. But White House physician, Kevin O'Connor, released an assessment shortly after the Friday presentation confirming Mr Biden had a cold but only took a Covid test three times that week.
Speaking to reporters, Mr Biden discussed the US jobs report which found jobs growth slowed down in November with only 210,000 new jobs created.
Economists had predicted 500,000 would be added as fears continue to grow over the Omicron variant and whether it could lead to further lockdowns.
However, Mr Biden's voice was noticeably more hoarse as he began coughing midway into the speech.
Peter Doocy noted the health of the US President and asked if he was ok.
Mr Biden responded: "I'm OK, I have a test every day, a Covid test. I have been checking for all the strains.
"What I have is a one-and-a-half-year-old grandson, who had a cold, who loves to kiss his pop."
But an assessment published by physician Kevin O'Sullivan went against that claim which read: "As is readily apparent, President Biden is experiencing some increased nasal congestion this week.
"This can be heard in his voice and he is feeling the colloquially well-known 'frog in one's throat.'
During a visit to Detroit promoting his infrastructure bill, maskless Mr Biden shook hands and spoke with crowds but put on a mask when he posed for a photo.
Mr Biden also did not wear a mask during the Thanksgiving weekend where he went out shopping in Nantucket.
He was photographed walking through the store with his mask below his mouth and with a large "face covering required" sign on the side of the building.
Mr Doocy questioned Ms Psaki on these breaches to which she replied: "I can assure you that the president follows every protocol … he wants to keep everyone safe in the White House."