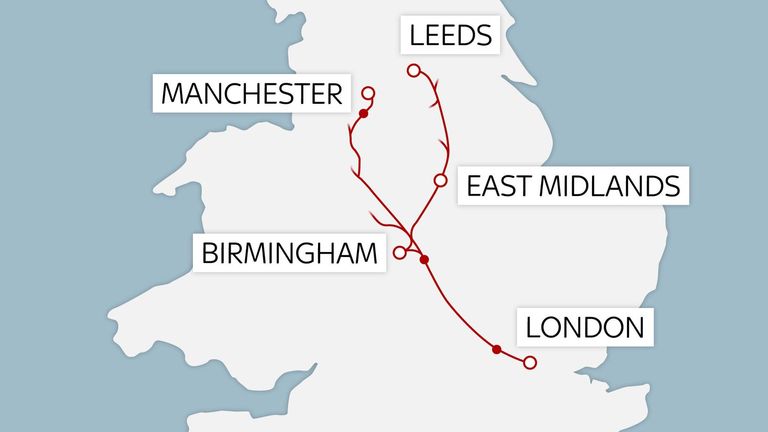 A long-awaited plan for railways in the Midlands and north of England will be published next week that could see the eastern extension of HS2 from Birmingham to Leeds mothballed.
Regional political leaders are anticipating publication of the government's integrated rail review for the Midlands and north imminently, with many braced for delays to key rail improvements.
The most high-profile casualty is expected to be the planned eastern extension of HS2 linking Birmingham to Leeds, likely to be delayed indefinitely because of Treasury concerns over cost.
If confirmed it will be the latest blow to the hugely controversial HS2 project, less than two years since Boris Johnson gave the green light for the scheme despite opposition from Conservative MPs and some of his own advisors.
Decisions will also be announced on whether to proceed immediately with a new trans-Pennine rail line linking Manchester and Leeds, the centrepiece of the long-planned Northern Powerhouse Rail (NPR) project.
The new east-west line is seen as central to improving connectivity in the north of England, and regional leaders say it is central to delivering the prime minister's "levelling up agenda", intended to spread economic benefits beyond the south of England.
Ministers may opt to delay the new route and instead continue only with upgrades to existing lines, a move likely to draw criticism.
New stations in Leeds and Bradford may also be approved even if the new east-west line does not receive backing, along with a new tram network.
A new station in Manchester, intended to integrate the already-approved western arm of HS2 and NPR, is also expected to be confirmed.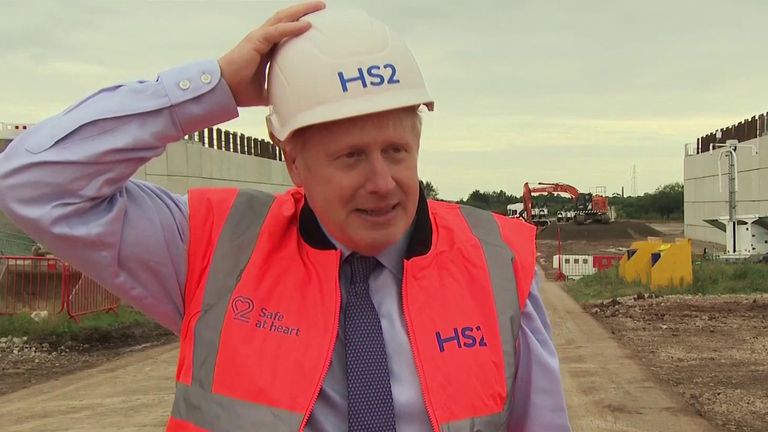 Sources say the city's ambitions for a huge new underground station that would allow trains from Liverpool to pass through direct to Leeds are unlikely to get the go-ahead.
The fate of HS2, dogged by persistent opposition and cost-overruns, will be the most controversial element of the review.
With the price tag of the 250mph line having ballooned to more than £100bn it is widely expected that the eastern leg, known as Phase 2b, will be put on hold, with no high-speed track laid beyond East Midlands Parkway station.
Instead the line will link up with the existing east coast mainline to Leeds, reducing planned journey times.
Ministers are not expected to cancel the plans entirely, fearful of a backlash from new Conservative MPs in so-called 'Red Wall' seats, but an indefinite delay will have major consequences for developments in the midlands.
A planned HS2 hub station at Toton near Nottingham, intended to be less than an hour from London and 30 minutes from Leeds, is unlikely to go ahead, leaving plans for thousands of new homes and millions of pounds of investment in the area in limbo.
Ben Bradley, the MP for Mansfield and leader of Nottingham County Council, told the Local Democracy Reporting Service this week that he expects an announcement imminently.
"I think we will see a significant commitment to investment and to Toton, and to other local transport infrastructure.
"I'm quite excited about it. I don't think it's going to be everything all in one go, but the commitment from Birmingham to here is pretty solid."
Further delays would be just the latest hold-up in the troubled HS2 plan.
First mooted by Gordon Brown and approved by David Cameron and Theresa May, Mr Johnson backed it in February last year despite the cost having more than tripled from an original £30bn.
The High Speed North review was launched to ensure the eastern leg of HS2 was considered alongside NPR and other planned developments in the midlands.
It followed the Oakervee Review of HS2, commissioned by Mr Johnson, which concluded HS2 was "the right strategic choice" for the country but proposed considering cost savings and design changes on the eastern leg.