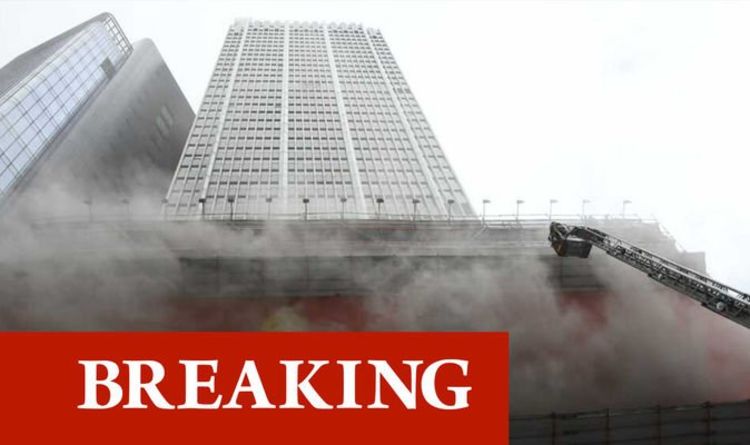 More than 300 people are thought to be trapped on the roof of the skyscraper, according to the South China Morning Post. The fire, which broke out in an electrical switch room, spread through the scaffolding on the 38-storey building. It began during the lunchtime rush today in Hong Kong.
So far, at least eight people are suffering from the effects of smoke inhalation, including a woman in her 60s who has been hospitalised with breathing difficulties.
The Fire Services Department's mobile casualty treatment centre arrived at the scene shortly after 2pm (6am GMT).
As of 3.15pm (7.15am GMT), one man and six women, aged 31 to 72, have been taken to nearby hospitals after suffering from the effects of smoke inhalation.
Another woman, 52, was taken to hospital after sustaining leg injuries.
By 2pm (6am GMT), 160 people had been successfully evacuated, but more than 300 remained trapped, Hong Kong police said.
They added that roughly 100 people were moved from a restaurant to a podium on the 39th floor when the fire broke out and smoke filled the dining area, according to local news outlet RTHK.
Firefighters were seen using an extendable ladder at 1.45pm to rescue people trapped on the fifth floor.
The building, which operates as a shopping centre and an office tower complex, has both office workers and restaurant-goers trapped inside.
According to the police, a preliminary investigation has revealed that the blaze broke out in the electrical switch room on the lower floor of the mall.
The fire was upgraded to a level three incident shortly after 1pm, on a scale of one to five used to rank fires in Hong Kong.
The building has been undergoing major renovation works for several months, allowing the fire to spread through the scaffolding on the outside of the building.
The lower floors of the building – owned by Sun Hung Kai Properties – were scaffolded.
The shops were luckily left empty as a result of the renovation but restaurants between the sixth and 14th floors, as well as office space between the 14th and 38th floors, were still in operation.
Emergency services were alerted to the fire at 12.37pm (4.37am GMT).
According to the South China Morning Post, people were seen streaming out of the building onto a neighbouring road, where they were helped by emergency services.
Some of them were taken away on stretchers.
Smoke could also be seen wafting out of the building.
A spokesperson for the police reported that many of the calls they had received relating to the fire included reports of dense smoke filling the rear staircases of the building.
A government spokesperson said firefighters were using two water jets to fight the blaze.
Two teams were also equipped with breathing apparatus, the spokesperson added.
The force has cordoned off the area surrounding the building, which is on Gloucester Road in Causeway Bay.