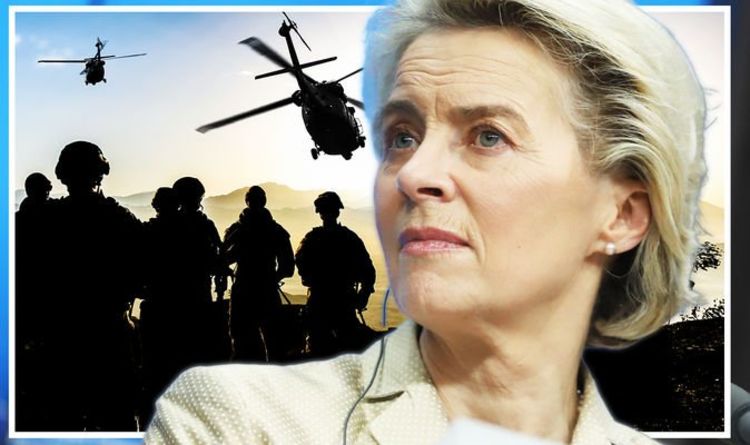 The bloc is working on a system of supporting "sustainable" sectors, creating distinctions between those that are and not considered to make "no significant harm" to environmental objectives. It hopes that its "taxonomy" list will "encourage the incorporation of sustainability concerns by corporations and investors into their strategy".
A debate has been sparked by the EU Commission's plans to include nuclear energy and natural gas in its list.
German Economy and Climate Protection Minister Robert Habeck said the proposal "waters down the good label for sustainability".
He added: "We do not see an approval of the new proposals."
But more controversial has been the decision not to include the security and defence industry on the list.
German newspaper Bild dubbed this a "fatal blow" to the EU's arms industry and to the bloc's dream of its own army.
Dr Hans Christoph Atzpodien, General Manager of the German arms industry association, told the paper that while the costs and benefits of nuclear energy are hotly contested, there is no dispute over the importance of security.
In light of this, he questioned why the EU had chosen not to include the sector in its "sustainability" list.
He said: "In contrast to nuclear energy, there is a consensus in Europe that security is the basis for any kind of sustainability.
READ MORE: Boris on brink as voters turn on Tories
He said: "[This is] a real threat to an entire industry and also to the security and freedom of Europe.
"Anyone who wants a sovereign Europe must also support domestic industry which is necessary for this."
In Italy, too, industry leaders have spoken out against the omission.
Aerospace and defence group Leonardo insisted that the EU must not put the defence sector on the green-"naughty list" and said the industry should be added to the "sustainable" list.
Alessandra Genco, the organisation's Chief Financial Officer, is quoted in Reuters: "If the defence industry is put on the naughty list… the money will go elsewhere.
"This is particularly true for thousands of small and medium enterprises in Europe, which have less bargaining power with banks than big groups, such as Leonardo."
She added: "You can have a healthy environment without Co2, but if you live in a place under terrorist attack, I'm sorry but it won't do you much good."
Additional reporting by Monika Pallenberg.