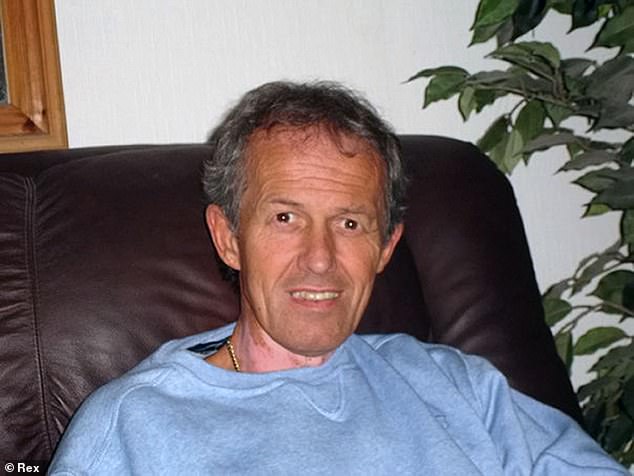 Eight men who sued Manchester City after complaining of being abused by paedophile Barry Bennell more than 30 years ago today lost a High Court fight to hold the club partly liable.
The group, now in their 40s and 50s, said Bennell, 68, abused them when they were playing schoolboy football for teams he coached in north-west England between 1979 and 1985.
They claimed that Bennell, who became a coach at Crewe Alexandra in 1985, was a scout for City at the time of the abuse, and because the relationship between Bennell and City was 'one of employment or one akin to employment' the club was liable for the harm they suffered.
All eight claimed damages for psychiatric injuries while six also attempted to sue for loss of football earnings. However, Mr Justice Johnson this morning ruled in City's favour, with the group now set to appeal.
The eight men, now in their 40s and 50s, said Bennell (pictured) abused them between 1979 and 1985
Mr Justice Johnson said the connection between the abuse and Bennell's relationship with City was insufficient to give rise to vicarious liability.
'The relationship gave Bennell the opportunity to commit the abuse, but MCFC had not entrusted the welfare of the claimants to Bennell,' the judge said.
'It follows that it has not been shown that MCFC is legally responsible for Bennell's acts of abuse.'
Mr Justice Johnson also ruled that the claims were brought too late to result in a fair trial.
He said that, while each of the claimants had a 'good explanation' for the delay, the evidence was less clear than it would have been had the claims been brought in time – in part because a key witness died in 2010.
The judge said: 'It is not fair, after all these years, to reach a binding determination on MCFC's responsibility for the abuse based on the partial evidence that is still available.
'I therefore dismiss each claim on the ground that it is out of time.'
Bennell, who is in jail after being convicted of a string of child sex offences in recent years, denied being linked to Manchester City during the 1980s.
He told the judge that he had been a 'local scout' for City between 1975 and 1979, but not between 1979 and 1985.
Bennell, who gave evidence at the trial via video link from HMP Littlehey, near Huntingdon, Cambridgeshire, where he is being held, said the 'reality' was that he 'was never' a City coach and, 'after 1978/1979', junior teams he coached had 'no connection at all' with City.
But he told the judge that he had 'always used and exploited' his previous connections with City for his 'own benefit'.
The judge said Bennell was a 'manipulative liar' and not a credible witness, and that each of the claimants has proved they were abused by him.
He added: 'All of them helped to ensure that Bennell was brought to justice.
'This means that others have been protected from the abuse that he may otherwise have continued to commit.
'The claimants have shone a light on what was going on in youth football.
'They have thereby helped to ensure that future generations of children are better protected, not just from Bennell, but also from others whose grooming and abuse can be prevented by better child protection measures.'
Bennell, who worked as a coach at Crewe Alexandra, is serving a 34-year prison sentence after being convicted of sexual offences against boys on five separate occasions – four in the UK and one in the US
Solicitor David McClenaghan, who represented the men, said: 'My clients and I are both shocked and dismayed at the High Court decision handed down today which declined to award them substantial damages in their claims against Manchester City Football Club for abuse suffered at the hands of Barry Bennell,' he said.
'Despite the judge accepting that there was a connection between Bennell and Man City and that he was scouting for them, coaching their feeder teams and helping to organise trial games for them, the club has escaped liability on a technicality.
'We do not accept the decision as being correct and will be appealing the decision in the higher courts where we are confident we will secure the correct and just result.'
In the wake of the scandal, which broke in 2016, City set up a no-liability compensation scheme, which has seen payments of around £4million to 64 individuals.
They have also paid for counselling and have apologised in writing and in-person to those who have asked for an apology.
Bennell's card had City's name on it and says he was their 'North West Representative'
One of the men suing City said he had not applied to the scheme because he did not agree with the 'terms and conditions'.
He added: 'They didn't negotiate, they dictated. They said it's this way or the highway.'
Bennell, who worked as a coach at Crewe Alexandra, is serving a 34-year prison sentence after being convicted of sexual offences against boys on five separate occasions – four in the UK and one in the US.
Following Bennell's 2018 trial, it was revealed that 86 more complainants had come forward to report abuse by Bennell, meaning he may have more than 100 victims.
In 2018, the then Recorder of Liverpool, Judge Clement Goldstone QC, branded Bennell 'the devil incarnate' and told him he 'may well die in prison'.
Lawyer David McClenaghan, who represented the eight men suing City, said: 'My clients and I are both shocked and dismayed at the High Court decision'
A Manchester City spokeswoman said in a statement after the ruling: 'Importantly whilst he found that the club was not vicariously liable for the actions of Barry Bennell, it was accepted by all parties that the abuse did take place.
'We understand that the legal team for the claimants intend to appeal the decision and in respecting their right to do so, it would therefore not be appropriate to comment further on these specific proceedings, which remain ongoing.
'Manchester City has both personally and publicly apologised without reservation for the unimaginable suffering that each survivor experienced as the result of abuse they suffered.
'The club reiterates this apology today to the survivors and to the multiple family members and friends affected by the traumatic events, the ramifications of which are felt by so many to the present day and will continue to be felt for a long time to come.'
Decades of sickening abuse before he was finally brought to justice: Timeline of the Barry Bennell case
Early 1970s: Starts his coaching career aged about 18 at renowned London-based junior club Senrab FC, Bennell told police.
Mid to late 1970s: Coaches at Butlin's holiday camp in Pwllheli, North Wales, and also begins working with Manchester youth team Whitehill FC, he also tells detectives.
November 1979 to July 1981: Employed as a resident social worker at the now closed Taxal Edge children's home in Whaley Bridge, Derbyshire.
1982 to 1985: Coaches youth teams in Derbyshire which provided several youth recruits for Manchester City.
1985 to 1992: Bennell is employed by or on behalf of Crewe Alexandra apart from a spell coaching in Georgia, United States, in 1989 and 1990.
1990: Marries Linda Woodward, sister of one of his abuse victims, Andy Woodward. The couple go on to have two children.
1992 to 1994: Bennell is employed by or on behalf of Stoke City.
1994: He is arrested while on a 10-week tour of the United States when coaching a Staffordshire youth team.
1995: He is convicted in Florida of four counts of indecent assault on a young boy and sentenced to four years in jail. Spends time in custody prior to his conviction. His victim was also abused by Bennell in Britain, which leads to a domestic investigation.
January 1997: Bennell is featured in the Channel 4 documentary series Dispatches. Former youth player Ian Ackley waives his anonymity and tells the Soccer's Foul Play programme he was sexually abused by Bennell.
September 1997: US authorities deport Bennell to the UK at the conclusion of his sentence and on his arrival he is charged with sexual offences relating to a number of complainants.
June 1998: He pleads guilty at Chester Crown Court on the first day of his scheduled trial to 23 counts of sexual abuse relating to 15 complainants, aged from nine to 14, between 1978 and 1992. Victims include Mr Ackley and Mr Woodward. Twenty-two alleged offences are left to lie on file. He is sentenced to nine years in prison.
May 2015: Bennell pleads guilty at the same court on the first day of his scheduled trial to sexually abusing a 12-year-old boy in 1980. He is jailed for two years. His victim did not come forward in 1997 because of the effect he said it would have on his mother. When she died in 2013 he contacted police. The court hears he was abused at Bennell's living quarters at Taxal Edge while staying with him as he took part in coaching sessions in Macclesfield.
November 2016: Mr Woodward waives his anonymity to give emotional, powerful interviews to the Guardian and BBC's Victoria Derbyshire programme. It leads to a number of complainants against Bennell contacting police and a fresh investigation begins.
January 2018: Bennell goes on trial at Liverpool Crown Court accused of 48 historical child sex offences against 11 complainants between 1979 and 1990.
February 2018: Bennell is jailed for 30 years at Liverpool Crown Court after being convicted of 52 child sexual offences against 12 boys in 2018.
July 2020: Bennell admits nine more sex offences – three counts of buggery and six counts of indecent assault in relation to two complainants between 1979 and 1988 who were aged between 11 and 14 at the time.
October 2020 : Bennell is sentenced at Chester Crown Court to four years in prison, in addition to the 30-year sentence he is already serving, for nine sexual offences against two boys.
October 2021: Eight men begin their High Court bid to sue Manchester City FC for the abuse they suffered from Bennell.
January 2022: A judge throws out their case, ruling City cannot be held liable.