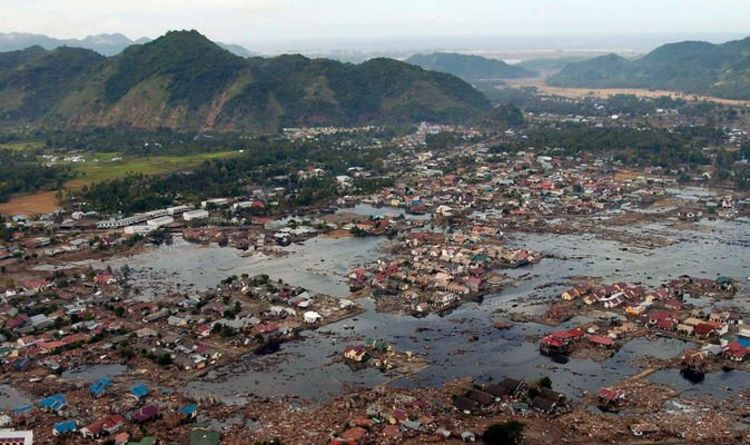 Today marks the 17th anniversary of the 2004 Indian Ocean earthquake and tsunami. A huge 9.1 magnitude earthquake off the coast of Indonesia's Aceh province triggered a tsunami that killed more than 230,000 people in Indonesia, Sri Lanka, India, Thailand and nine other countries. The quake opened up a fault line in the Indian Ocean, and triggered waves as high as 17.4 metres – 57 feet. Small communities in some areas were decimated almost immediately – Northern Aceh province bore the brunt of the disaster, where a total of 128,858 people were killed, according to statistics compiled by the government and aid agencies.
In the days following the disaster, bodies continued to be found and recovered as the rest of the world watched on in shock.
Hospitals and morgues struggled to cope with injured and bewildered victims.
Around £10billion in official aid and private donations were pledged to help affected areas recover from what happened.
A reason why the disaster may have been so damaging is because the authorities weren't able to send out an alert because the Indonesia's sensor system had been hit by lightning.
Reuters reported in 2019, 15 years after the disaster, that "some experts say complacency about the maintenance of the system is leaving millions vulnerable and governments still warn of the ever-present risks.
Despite huge sums of money being spent on a vast network of seismic and tsunami information centres, the news agency added that "doubts linger about how ready countries on the Indian Ocean really are for another giant wave."
Speaking to CBS in 2014, Kerry Sieh, the director of the Earth Observatory of Singapore, explained why the tsunami caused so much damage.
He said: "What the 2004 event showed very clearly was that there was nothing in the Indian Ocean, nothing whatsoever in terms of technology or people's awareness or infrastructure preparation."
He added: "There are still tremendous gaps in people being secure from tsunamis in the Indian Ocean."
Mr Sieh said "it's relatively easy to put in high-tech sensors that can detect a tsunami in open ocean soon after it's formed", but what is difficult is preparing infrastructure for the onslaught and educating people on how to react and get to safety.
READ MORE: Nations brace for 'tsunami' of Omicron cases after Christmas
According to a report by CNN, the tremors during the 2004 tsunami were so powerful that it was a rare instance where the entire planet vibrated and no place on Earth escaped movement.
The report quoted an associate professor of geosciences at the Penn State University in the US who said: "Globally, this earthquake was large enough to basically vibrate the whole planet as much as half an inch, or a centimetre.
"Everywhere we had instruments, we could see motions."