The owner of British Airways has placed its hopes for a return to profitability on strong demand for transatlantic travel after posting a loss for its key summer season.
International Airlines Group (IAG) said the gradual lifting of COVID-19 travel restrictions in key markets – culminating in the full reopening of the US travel corridor due on Monday – should enable a return to the black in 2022 after the worst run of losses in its history.
The company reported that passenger numbers improved significantly during the three months to the end of September – its third quarter – helping pre-tax losses ease to £611m from the £1.7bn sum in the same period last year.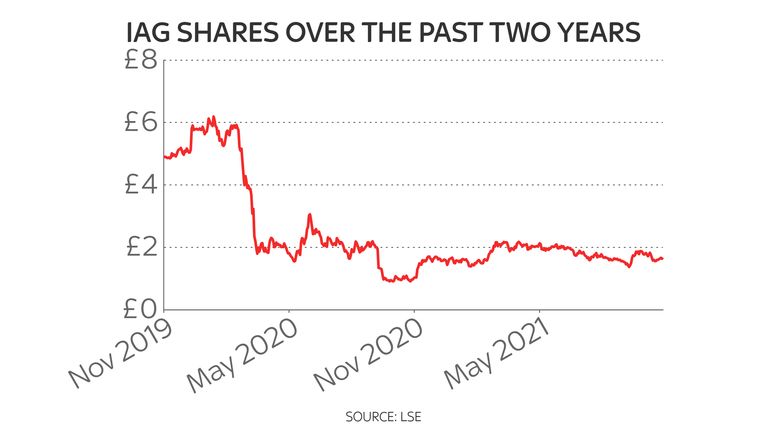 But group passenger capacity across its brands, which also include Iberia and Aer Lingus, remained at just 43% of pre-pandemic levels, IAG said.
It added that it was planning for a figure of 60% for the current quarter, which includes Christmas and 90% for summer 2022.
Shares rose by almost 2% at the market open.
The performance mirrors an improving picture for a sector that was among those worst hit by the pandemic, resulting in thousands of job losses last year including 13,000 at BA alone as international travel went in to hibernation.
IAG chief executive Luis Gallego said of the recovery: "All our airlines have shown improvements with the group's operating loss more than halved compared to previous quarters."
He said of the end of US restrictions: "The full reopening of the transatlantic travel corridor from Monday is a pivotal moment for our industry.
"British Airways is serving more US destinations than any transatlantic carrier and we're delighted that we can get our customers flying again.
"Long-haul traffic has been a significant driver of revenue, with bookings recovering faster than short-haul as we head into the winter.
"Premium leisure is performing strongly at both Iberia and British Airways and there are early signs of a recovery in business travel."
But Julie Palmer, partner at Begbies Traynor, said of the results statement: "The British Airways owner is being risk-averse by securing loans and revising its hedging policy to respond to the reduction in travel and drastic changes in fuel costs, but there are other issues right around the corner which might see the company dipping into the pot sooner than planned.
"Attention has been on COP26 with talks focussing on renewable energy and sustainability.
"The airline company not only has to make sure future plans fall in line with net-zero plans, but also has to ensure it is prepared to handle losing loyal business customers that no longer need to catch a flight to attend business meetings.
"There are big changes on the horizon and the airline group will need to make sure its future plans are well thought out if the company wants to continue flying high."