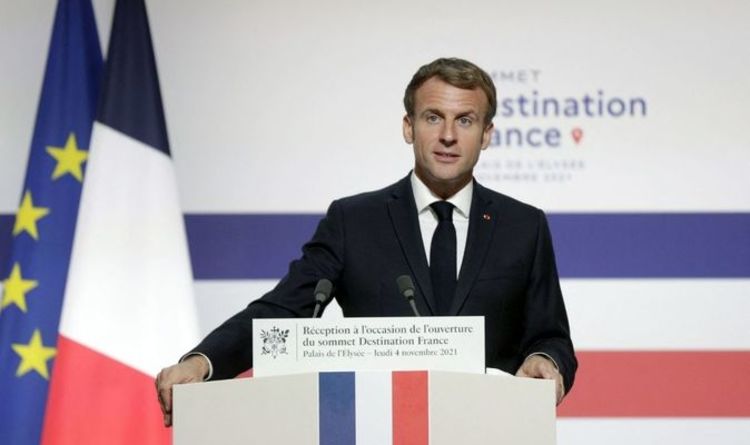 Last year, flags in the new colour were raised on the Presidential palace in the French capital of Paris with barely anyone noticing. The country's President Emmanuel Macron, who faces a fight for his leadership at next May's elections, wanted to bring back the navy blue flag, Europe 1 in France has reported. It is a symbol of the French revolution. The change is reportedly partly an aesthetic one as the French and European flags are side-by-side aloft many buildings in several locations.
The Presidential palace has yet to publicly acknowledge the change to its flags, and it is believed there are no official orders for other institutions to do the same.
However, Mr Macron reportedly came under increasing pressure over his decision to change the shade back to navy blue.
It had been argued this new slightly darker colour and the change in shade was ugly and would clash a lot with the current EU flag, which also sports a dark blue colour.
Despite this, it was decided by all concerned this must not be interpreted as an anti-EU gesture, Europe 1 has reported.
In January, France will also take over the rotating EU presidency.
But several people have taken to Twitter to brutally mock President Macron over the tweak in colour to the flag.
Twitter user Cedric wrote: "Perhaps he should now call himself Napoleon Macron.
"He already has a number of disputes with UK."
READ MORE: Brexit LIVE: EU prepares to impose sanctions on UK within DAYS
Twitter user FRUITY raged: "Is it necessary to change the colour of the Flag rather than finding the solutions for the country's internal problems?"
Mr Macron has been keen to reintroduce the navy blue flag, Europe 1 reported.
But the darker and lighter flags have been in use for several years.
Throughout France, the country's navy and several other official buildings have always used the navy blue shade in its flags.
However under the presidency of Giscard d'Estaing in 1976, the French state brought in a brighter blue on the tricolour.
The move was made so it would match the blue on the flag of Europe.