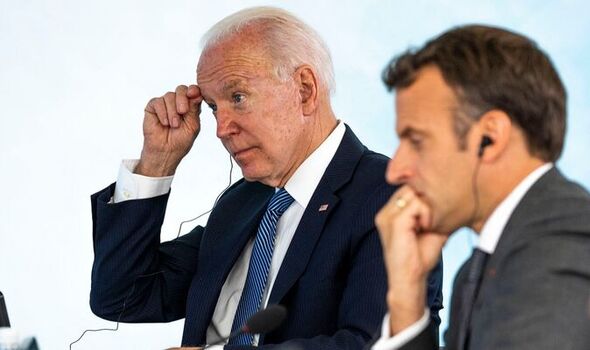 Putin recognises independence of Ukraine separatist regions
This comes after the Russian president announced Moscow would recognise the separatist regions of Donetsk and Luhansk as independent of Ukrainian control. The move was condemned by the West, with Foreign Secretary Liz Truss saying it "represents a further attack on Ukraine's sovereignty and territorial integrity".
Ms Truss added the decision showed a "flagrant disregard" for the existing Minsk Agreements, and was a display of Moscow taking a "path of confrontation over dialogue".
She said: "We will coordinate our response with Allies.
"We will not allow Russia's violation of its international commitments to go unpunished."
This comes as White House Press Secretary, Jen Psaki, said Washington had readied itself to respond to such a play by the Kremlin.
President Biden is in talks with Mr Macron and Mr Scholz (Image: Getty)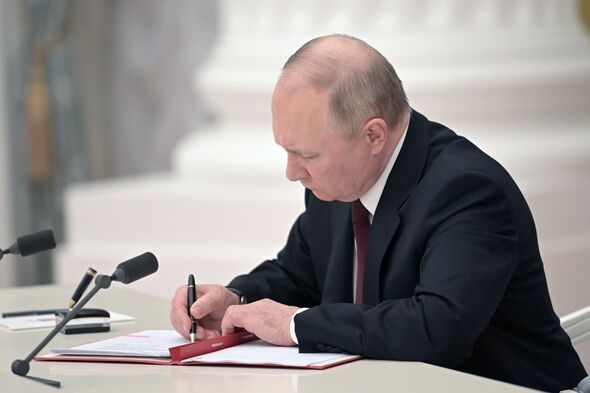 Vladimir Putin signing the decree to recognise the breakaway regions (Image: Getty)
President Biden will ban trade with the two breakaway regions recognised by Mr Putin, in addition to preparing the "mother of all sanctions" threatened by the US against Russia.
Ms Psaki added the new Executive Order, to be put in place by President Biden, was separate from these sweeping sanctions already threatened by the US, should Russia invade Ukraine.
She said: "President Biden will soon issue an Executive Order that will prohibit new investment, trade, and financing by U.S. persons to, from, or in the so-called DNR and LNR regions of Ukraine."
This call follows President Biden's consent to a summit with Mr Putin on the condition of no Russian troops crossing the border into Ukraine after discussions between Mr Putin and Mr Macron.
READ MORE: EU commissioner seeks compensation after being forced to resign by VdL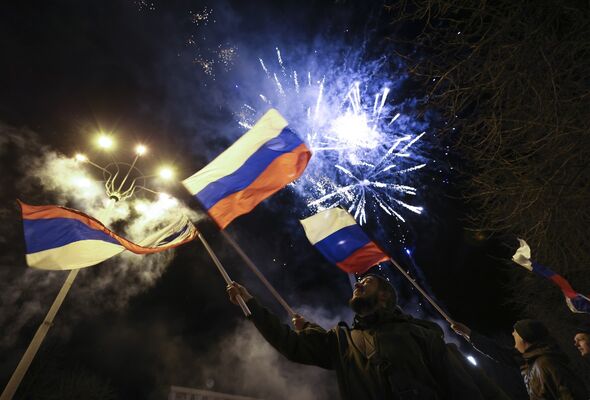 Russian-backed separatists celebrating Mr Putin's announcement (Image: Getty)
Emmanuel Macron and Olaf Scholz (Image: GETTY)
Mr Putin announced he would formally recognise the two breakaway regions of Ukraine in a televised speech on Monday.
Donetsk and Luhansk are controlled by Russian-backed separatists, and this could offer Mr Putin a pretext to place Russian troops in the region.
Mr Putin's statement was slammed by UN Secretary-General, Jens Stoltenberg, who said: "I condemn Russia's decision to extend recognition to the self-proclaimed 'Donetsk's People's Republic' and 'Luhansk People's Republic.'"
He added: "This further undermines Ukraine's sovereignty and territorial integrity, erodes efforts towards a resolution of the conflict, and violates the Minsk Agreements, to which Russia is a party."
EU Commission President, Ursula von der Leyen, added: "The recognition of the two separatist territories in Ukraine is a blatant violation of international law, the territorial integrity of Ukraine and the Minsk agreements."
She continued: "The EU and its partners will react with unity, firmness and with determination in solidarity with Ukraine."
Mr Scholz had spoken to President Putin on Monday afternoon, just before the announcement was made to recognise Donetsk and Luhansk.
The German Chancellor condemned the plans at that point, before they were finalised.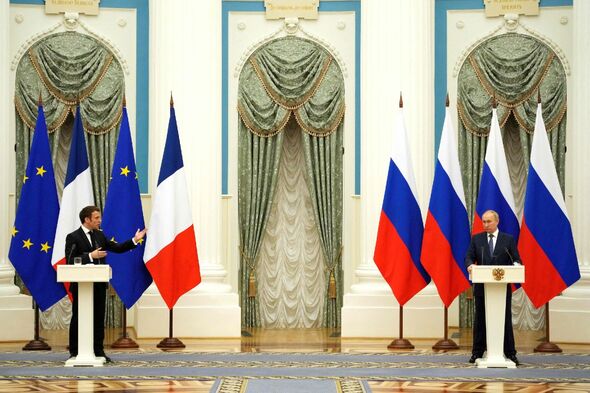 Emmanuel Macron in talks with Vladimir Putin (Image: GETTY)
EU foreign policy chief, Josep Borrell, said earlier on Monday: "If there is annexation, there will be sanctions, and if there is recognition, I will put the sanctions on the table and the ministers will decide."
French President Emmanuel Macron also called for "targeted European sanctions" in reaction to Mr Putin's declaration.
He also advocated for a meeting of the UN Security Council.